Sturgeon denies exploiting Brexit for independence cause
Jackson Carlaw claimed the SNP will vote against Theresa May's deal to cause "chaos".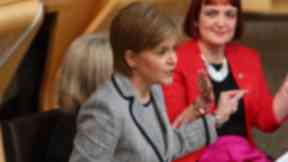 Nicola Sturgeon has hit back at claims SNP MPs are voting against the Prime Minister's Brexit deal in the hope the "chaos" of a no deal would help bring about a second independence referendum.
Conservative interim leader Jackson Carlaw urged the First Minister to get behind the draft Withdrawal Agreement drawn up by Theresa May, insisting this is "the only deal on the table".
Supporting the deal "delivers an orderly exit, protects jobs" and also gives fishermen in Scotland "more control of our waters than we've had for half a century", he said.
He claimed the SNP will vote against this at Westminster on December 11 in the hope it will deliver "more chaos, more upheaval and all in the hope that it will deliver her obsession with a second independence referendum".
Ms Sturgeon said it was the Tories who were "exploiting" the issue of a possible second independence referendum to "avoid hard questions on Brexit".
Responding to Mr Carlaw at First Minister's Questions, she said: "He talks about the SNP using Brexit to advance the case for independence - let me say to him Brexit does that all by itself, it doesn't need any help from the SNP.
"And that threadbare line is just a device for the Tories because the opposite is true, they are exploiting independence to avoid hard questions on Brexit, it will not wash.
"People see right through it."
The SNP leader said the proposed Brexit deal "will take Scotland out of the European Union against our will, it will take us out of the Single Market against our economic interest, it will put us at a potential competitive disadvantage with Northern Ireland, and into the bargain it will sell out Scottish fishermen".
She said: "On December 11 in that vote on that deal that sells out Scottish fishermen, SNP MPs will vote against it."
Mr Carlaw said the Scottish Fishermen's Federation backed Mrs May's deal.
"What the First Minister is actually saying is she does know better than the Scottish Fishermen's Federation," he said.
The SNP policy of an independent Scotland being a member of the EU would mean fishermen - many of whom voted for Brexit - would have to be part of Europe's Common Fisheries Policy (CFP), he added.
Mr Carlaw said: "The plain fact is for all their posturing and pompous outrage, the SNP policy is to rejoin the EU and therefore because there is no way round this to rejoin the Common Fisheries Policy.
"It is not a question of liking it, it is a question of lumping it."
Ms Sturgeon said the EU's statement after the Brexit deal was agreed made plain its desire to build on the CFP in its future relationship with the UK
The First Minister said: "The commitment was never just about being an independent coastal state, that is the bare minimum.
"What the Tories promised was annual negotiations, now we know there is going to be an overall agreement.
"They promised no link between access to waters and access to markets, the political declaration makes clear that there will be that link, and of course the statement issued by the European Union makes it clear they are going to demand an arrangement that builds upon the Common Fisheries Policy.
"So I say to Jackson Carlaw again no amount of bluff and bluster from him today will take away from this fact - the Scottish Tories yet again have sold out Scottish fishermen."
Download: The STV News app is Scotland's favourite and is available for iPhone from the App store and for Android from Google Play. Download it today and continue to enjoy STV News wherever you are.