Brexit: No-deal 'could pose issues for NHS in Scotland'
A new report has warned the health service could pose 'substantial financial implications'.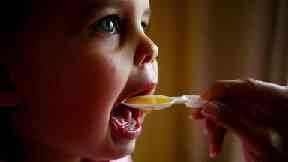 A no-deal Brexit could have "substantial financial implications" for the NHS in Scotland, and could also see some patients forced to wait longer for important medication, a new report has warned.
If tariffs are put in place after the UK quits the European Union the report says, life sciences firms fear the cost of drugs could rise if products cross the UK/EU border multiple times during the manufacturing process.
A new paper, produced for IQVIA and Q2 Solutions is calling on the UK Government to ensure the free movement of medicines and biological samples can continue post-Brexit.
Speaking as it was launched at Q2 Solutions laboratory at the Alba Campus in Livingston, West Lothian, vice president Tony Brown warned: "A no-deal Brexit, reverting to WTO (World Trade Organisation) rules, could have significant financial implications for the NHS in Scotland, and the wider life sciences sector.
"That is why we are calling for a longer transition period and a specific deal around our ongoing relationship with the European Medical Agency (EMA)."
He spoke out after the paper called for the life sciences sector - which employs some 37,000 people in Scotland and contributes £2bn to the economy - to be "kept front and centre of the Brexit negotiation process".
Companies exporting drugs to the EU could face non tariff barriers, such as the need for extensive batch testing of their products after Brexit, with additional regulatory approval another prospect.
"A no-deal Brexit, reverting to World Trade Organisation rules, could have significant financial implications for the NHS in Scotland, and the wider life sciences sector.

Tony Brown, Q2 Solutions
This could take 12 months, the paper warned, adding: "The time and costs required in the re-testing of medicines will drive up company costs, and substantial delays could have an adverse effect on essential medicines which have a limited shelf life and/or require cold storage. "
Meanwhile "costly and time-consuming" customs controls could be imposed if Britain is no longer part of Europe's custom union "with serious risks of limiting and delaying patient access to medicines".
While WTO terms allow some pharmaceutical products and components to move between countries with 0% tariffs, IQVIA has estimated as many as 1,700 finish products and ingredients are not included on this list, as the agreement behind it has now been updated since 2010.
The paper stated: "Tariffs could therefore present a risk to NHS budgets in the case of a no deal and could cost manufacturers extra where the product crosses the UK/EU border multiple times during manufacture."
It also warned "customs controls and additional administrative requirements on companies to seek any form of additional authorisation would increase burdens on both the UK and European authorities, as well as businesses, meaning that patients will have to wait longer to receive important medication".
Here the report noted that "critically some medicines require cold storage or have short shelf lives, and thus cannot sit at borders".
Mr Brown said: "Life sciences is a hugely significant part of the Scottish economy, and its future in Scotland is at risk if we do not get the post-Brexit arrangements for the sector right."
Download: The STV News app is Scotland's favourite and is available for iPhone from the App store and for Android from Google Play. Download it today and continue to enjoy STV News wherever you are.