Rape survivors 'still being examined by male doctors'
Rape Crisis Scotland said women were being caused further distress by the system.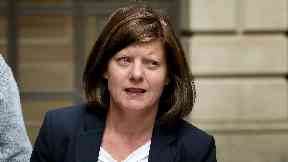 Some survivors of rape are being examined by male medical staff, according to a charity.
Rape Crisis Scotland said women are being caused further distress by being forced to wait 24 hours before they are forensically examined.
The charity commented following the publication of the latest report by HM Inspectorate of Constabulary in Scotland on the provision of forensic medical services to victims of sexual crime.
It recorded a number of improvements following a critical report 18 months ago and the subsequent creation of a dedicated taskforce, but all ten recommendations were said to "remain a work in progress".
On Sunday the Scottish Government announced £8.5m in funding to improve medical examinations and other health services for survivors.
This includes a move towards all examinations taking place in a healthcare setting and not on police premises.
Sandy Brindley from Rape Crisis Scotland said: "There continues to be significant issues with the current provision, with many survivors telling us of how distressing they found it to be examined by a male doctor immediately after the rape or sexual assault.
"Survivors still tell us of having to wait a day or longer for the examination.
"The very least survivors of rape should be able to expect is a standard of forensic care which will allow their examination to take place in an appropriate location and by a female doctor - regardless of geographical location."
Her Majesty's Chief Inspector of Constabulary, Gill Imery, added: "The energy, enthusiasm and dedication of the professionals involved in the taskforce, and many more who are responsible for delivering the services to victims of sexual crime continues to be commendable.
"An improvement in these services, so that they meet the needs of the victims, is a priority of the Scottish Government.
"Notwithstanding that, all ten recommendations from our original report remain a work in progress and those involved in the front line of this important service tell us that little has changed on the ground.
"This is against a back drop of increasing numbers of sexual crimes being reported to the police."
Download: The STV News app is Scotland's favourite and is available for iPhone from the App store and for Android from Google Play. Download it today and continue to enjoy STV News wherever you are.