Scottish Budget: Income tax rates to stay the same
Derek Mackay announced thresholds for starter and basic rates would rise with inflation.
Income tax rates in Scotland will not be changed in the coming financial year, the finance secretary has announced.
Derek Mackay said the tax thresholds for those on starter and basic rates would rise in line with inflation in 2019/20 "to protect our lowest and middle-earning taxpayers".
Revealing his draft Budget plans at Holyrood on Wednesday, Mackay said the higher rate threshold would be frozen at £43,430.
The finance secretary said the proposals mean "99% of taxpayers will see no increase in the tax they pay".
He added his Budget would ensure 55% of Scottish taxpayers pay less income tax than they would elsewhere in Britain, making Scotland "the lowest-taxed part of the UK".
But the Scottish Conservatives said the plans would mean a growing tax gap between some Scottish and UK taxpayers, after Chancellor Philip Hammond raised the 20p rate threshold to £50,000 in his own Budget.
Mackay cautioned his tax and spending plans for 2019/20 were provisional, depending on the outcome of Brexit.
He also announced boosts in funding for health, education and policing, as well as an overall real-terms increase in the total local government settlement of more than £210m, bringing it to £11.1bn.
Public sector workers earning £36,500 or less will get a pay rise of 3%, capped at 2% for those earning between £36,500 and £80,000.
As the Scottish Government continues to adjust to new welfare responsibilities, the finance secretary revealed he had set aside £435m in total for social security provision - "over and above what the UK provides", he said.
Income Tax: What does it mean for you?
Last year, Derek Mackay introduced two new bands into the Scottish income tax system, bringing the total to five, diverging sharply from the UK's three-tier system.
He brought in a starter rate of 19% for the lowest-paid earners, kept the standard basic rate of 20% but also introduced a new intermediate band of 21% for those on £24,000 to £43,430.
While the intermediate rate looks on the face of it like a tax rise for everyone on a salary higher than £24,000, that 19% starter rate balanced it out to a certain degree.
In effect, it meant only those on £33,000 or higher were actually paying more income tax than before.
And those on the higher tax threshold, starting at £43,430, or the top threshold, starting at £50,000, were most certainly paying more, with the rates for each going up by 1% to 41% and 46% respectively.
This year, all that is going to stay broadly the same:
£12,500 – £14,549: Starter Rate (19%)
£14,549 - £24,944: Basic Rate (20%)
£24,944 - £43,430: Intermediate Rate (21%)
£43,430 - £150,000: Higher Rate (41%)
Above £150,000: Top Rate (46%)
But what is going to change this year is the tax gap between what some higher-earning Scots pay and their English counterparts.
That's because Chancellor Philip Hammond increased the 20p basic rate threshold to those earning up to £50,000.
That means those in that salary window between £43,430 and £50,000 in Scotland could pay up to £300 more a year in income tax than similar earners in the rest of the UK.
Scottish Conservative shadow finance secretary Murdo Fraser said: "It seems the expert warnings that a growing divergence would make it harder to recruit talented people across both the private and public sector have been roundly ignored."
He added: "None of this was necessary - there was absolutely no need for more SNP tax rises.
"UK Chancellor Philip Hammond delivered an additional £950m in Barnett consequentials in his last budget.
"The SNP government should have used that instead of further raiding the pockets of Scotland's workers."
GDP growth
The finance secretary also revealed projected GDP growth for the next five years, as forecast by the Scottish Fiscal Commission.
2018: 1.4%
2019: 1.2% 
2020: 1%
2021: 1%
2022: 1.1%
2023: 1.2%
Welfare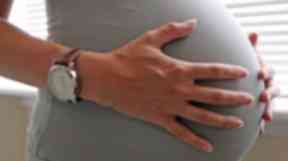 Derek Mackay unveiled a raft of spending pledges on benefits as the Scottish Government grows accustomed to recently-acquired welfare responsibilities.
With £435m set aside for social security provision, of that the finance secretary pledged:
£37m for the carers and allowance supplement
£2.4m to the Best Start grant for low-income families with new babies.
£6.2m for a new fund to provide assistance with funeral costs.
£100m to mitigate the bedroom tax and other UK Government welfare cuts
£2m to the Fair Food Fund, boosting it from £1.5m to £3.5m, with the new funds to help to tackle food insecurity for children during the school holidays.
But Scottish Labour, which had appealed for cash from the finance secretary to effectively abolish the UK Government's two-child tax credit cap and the so-called "rape clause", were disappointed.
The party had also called for more to be done to mitigate the effects of Universal Credit and a £5 weekly increase to child benefit payments.
Labour finance spokesman James Kelly said: "Few things better sum up the cruelty of the Tory government than the two-child cap on tax credits and Universal Credit, which punishes people for raising a family.
"The SNP has refused to use its powers to put an end to this vile policy and rejected calls from across civic Scotland to increase child benefit."
Analysis by STV's Holyrood editor Colin Mackay
The big increases are health with an extra £750m next year.
There's an extra £210m for early years education, speeding up the construction of new nursery buildings to meet the promise of more free childcare by the next election.
In terms of what this Budget means to your pocket, council tax increases are capped at 3%.
On income tax - you will pay pretty much the same as last year. 99% of people won't pay any more than last year.
But the divergence between what you'd pay north and south of the border grows.
If you earn less than about £27,000 you pay less in Scotland than you would in England - that's 55% of workers.
As for the other 45% the Tories say they are being punished by the Scottish Government - if you are earning £50,000 you are paying over £1500 more in Scotland than in England.
In terms of the politics, this is just the start of the Budget process - there's no vote until January. Thats when the wheeling and dealing will really start.
I would expect the Scottish Government to allow Green demands for a tourist tax and give consideration to scrapping the council tax.
But if we end up with a no-deal Brexit the finance secretary will have to rip this up and start again.
Download: The STV News app is Scotland's favourite and is available for iPhone from the App store and for Android from Google Play. Download it today and continue to enjoy STV News wherever you are.