Leonard vows to root out anti-Semitism in Scottish Labour
Richard Leonard urged his party to win back the trust of Jewish communities in Scotland.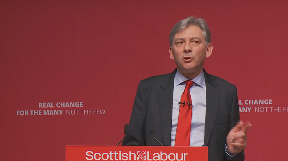 Scottish Labour leader Richard Leonard has said his party needs to win back the trust of Scotland's Jewish communities and root out anti-Semitism within its ranks.
With Jeremy Corbyn watching on, Leonard told the party's spring conference that anti-Semites did "not represent Labour values".
The Scottish Labour leader vowed "unequivocally" to banish all forms of bigotry and racism from his party.
He was echoing similar comments by the UK party leader, who addressed delegates in Dundee on Saturday and warned Theresa May that if the second meaningful vote on her Brexit deal fails next week, she will have "reached the end of the road".
Corbyn also lambasted the SNP and the Conservatives for being "obsessed with constitutional questions" like Brexit and Scottish independence, claiming Labour was focused on the problems in people's daily lives.
Speaking on Sunday, Leonard said people were turning to his party "to fight their corner" and insisted he would not "simply sit back and give up before nationalism".
He pledged that any future Labour administration at Holyrood led by him would introduce free bus travel for under 25s "on day one of an incoming Scottish Labour government".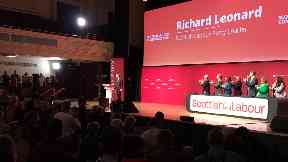 On the issue of anti-Semitism, the Scottish Labour leader said: "We need to win back the trust of Scotland's Jewish communities, who feel badly let down.
"It sickens me that there is any anti-Semitism at all in our party and in our movement. That is not who we are and it is not what we are about.
"We are not simply a non-racist party, we are an anti-racist party. Antisemitism does not represent Labour values.
"There is no place in our party for prejudice, bigotry, hatred and racism and that's why I say to you this afternoon unequivocally we will root it out."
Leonard went on to say Labour would demand bus services across Scotland be brought into public ownership when the Transport Bill comes before the Scottish Parliament, expected in the summer.
He added: "To jumpstart our bus services again, I am today calling for an extension of the free bus pass to all under 25s within the lifetime of this parliament.
"And if the SNP won't do it, we will do it on day one of an incoming Scottish Labour government."
Leonard said a Scottish Labour government would create "a free bus network to serve the whole of Scotland".
Download: The STV News app is Scotland's favourite and is available for iPhone from the App store and for Android from Google Play. Download it today and continue to enjoy STV News wherever you are.