No-deal tariffs plan 'devastating' for many Scots firms
Nicola Sturgeon unveiled a Brexit support grant for businesses as MPs prepare to vote on no-deal.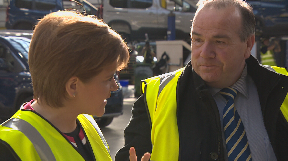 Tariffs on some imports announced by the UK Government if there is a no-deal Brexit would have "a devastating impact" on many Scottish companies, Nicola Sturgeon has said.
The First Minister spoke to STV News in Glasgow on a visit to a vehicle-modifying company as MPs prepare to vote on if they oppose a no-deal scenario.
Sturgeon met with staff at Allied Vehicles, which converts vehicles for disabled use, and unveiled a new £2m Brexit support grant for small-to-medium-sized firms.
The Scottish Government's new grant offers businesses employing 250 people or fewer funding of up to £4000 to help prepare for Brexit.
Publishing new no-deal plans on Wednesday, UK ministers announced they would not impose tariffs on the majority of goods entering the country if Britain leaves the EU without a withdrawal agreement.
But there are plans for some levies on the automotive and farming industries, with a 10% tariff on imported EU cars - which would add about £1500 onto the cost of a typical imported family car.
In agriculture, there are proposals to place import taxes on produce like beef, poultry and some dairy products coming into the country in a bid to protect the homegrown sectors.
In total, the planned no-deal tariff regime - which would last 12 months - would mean 82% of imports from the EU would be tariff-free, down from 100% now.
Sturgeon told STV: "Tariffs would have a devastating impact on many businesses...
"This is the hard edge, the real edge of the political pantomime that we've been witnessing in Westminster over recent days and weeks and that pantomime's got to stop."
She added: "The Prime Minister - there's no point being anything other than blunt about this - has presided over the biggest failure of politics, negotiation, diplomacy, governance in all of our lifetimes.
"The result of that is that more than two and a half years on from the Brexit vote, we have companies like this one I'm visiting today.
"They don't know what trading environment they're going to be working in in just 16 days' time. That is unforgivable."
UK Brexit secretary Stephen Barclay said the potential measures were "responsible" planning and would only be temporary if brought in.
Barclay said: "We're going to obviously listen to businesses in terms of what the impacts of that are.
"But these are the real-term consequences of the vote in the House of Commons last night."
Scotland's farming union has described the no-deal tariff schedule as giving the industry "significant concern".
NFU Scotland policy director Johnnie Hall continued: "It protects, or gives some protection, to some of the key sectors of Scottish agriculture but not to all.
"For example, our cereal sector and our vegetable and fruit producers have no protection under the situation whatsoever."
He added: "No-deal is the worst of all worlds as we're concerned and that's exactly why we're pushing MPs to vote wisely and to rule out a no-deal once and for all."
Download: The STV News app is Scotland's favourite and is available for iPhone from the App store and for Android from Google Play. Download it today and continue to enjoy STV News wherever you are.