Mundell: I won't resign despite abstaining over no-deal
The Scottish secretary defied the Tory whip as MPs rejected leaving the EU without a deal.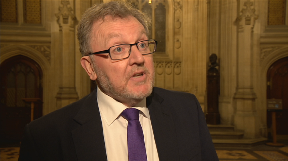 Scottish secretary David Mundell has said he will not resign his post despite defying the government whip to abstain on a no-deal Brexit vote in the House of Commons.
Mundell joined several other ministers and Cabinet ministers in refusing to vote after the Conservatives tried to enforce a three-line whip against the Prime Minister's own amended motion.
Theresa May had initially offered Tory MPs a free vote on Wednesday's motion opposing leaving the EU on March 29 without a deal, and the Scottish secretary previously told STV he planned to vote for it.
But the government changed its mind at the eleventh hour, after an amendment by former minister Caroline Spelman backing an even tougher stance against no-deal was passed by just four votes.
In chaotic scenes at Westminster, ministers including Mundell, work and pensions secretary Amber Rudd, justice secretary David Gauke and business secretary Greg Clark refused to block the amended motion, which passed by 43 votes.
Junior work and pensions minister Sarah Newton quit the government after going even further and voting for the original Spelman amendment, which rejected no-deal at any time and under any circumstances.
A Downing Street source said ministers who voted against the government would be expected to resign, but did not clarify what would happen to those who abstained.
Alongside Mundell's abstention, 11 Scottish Conservative MPs voted in line with the government, against the amended motion opposing no-deal.
Only East Renfrewshire Tory MP Paul Masterton rebelled against his party to unconditionally reject leaving the EU without a deal.
Speaking on STV's Scotland Tonight programme, Mundell said: "In the first vote on the so-called Spelman amendment, I voted against that amendment because I wanted to be able to support the Prime Minister's motion which said we didn't want to leave the EU with no deal.
"However, that motion was defeated, the amendment prevailed, and then we went to a second and final vote.
"Because I feel strongly that we shouldn't leave without a deal, I didn't feel I could oppose the amended motion once the House had set out its will."
The Scottish secretary insisted: "I'm not resigning, because I support the Prime Minister in her course of action. Her course of action is to leave with a deal in an orderly Brexit.
"But I am just very clear that I don't support a no-deal Brexit and I've made that clear on numerous occasions.
"The House has made its view clear and the government is responding and taking forward the decision of the House today."
However, the SNP and Labour are both calling for Mundell to resign his post.
Labour's shadow scottish secretary Lesley Laird MP, said: "This is an absolute abdication of duty.
"Last night David Mundell proclaimed that he would vote to take no-deal off of the table but he appears to have caved under pressure."
SNP business spokesman Drew Hendry said: "David Mundell must resign - he has proved himself utterly incapable of standing up for Scotland's interests.
"Yet again, Scottish Tory MPs have abandoned the wishes and interests of their own constituents, by voting to keep a disastrous no-deal Brexit on the table."
After Wednesday's result, and Tuesday's emphatic second defeat of May's Brexit deal, MPs will vote on Thursday on if they support delaying Brexit by extending Article 50.
The SNP has urged the Commons to do so in order to hold a second referendum on EU membership - the so-called "People's Vote".
Download: The STV News app is Scotland's favourite and is available for iPhone from the App store and for Android from Google Play. Download it today and continue to enjoy STV News wherever you are.