Brexit: Robert the Bruce's spider has a message for May
The Prime Minister is refusing to admit defeat on the deal she's negotiated with the EU.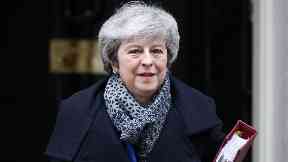 When I was wee I was told the story of Robert the Bruce and the spider. After defeat by English King Edward the First's army at the Battle of Methven, Robert the Bruce went on the run.
While holed up in a cave he saw a spider trying to build a web. Time after time it failed and the web broke until finally it held.
From that Bruce took the message - if at first you don't succeed; try, try, try again. He went on to win a famous victory at Bannockburn.
Now the Prime Minister looks like she is channelling that spider in her Brexit deal. Maybe she met a spider in a Commons lavatory after that first crushing defeat when she lost by a record 230 votes. She tried again this week and lost by 149 votes.
Now she looks likely try again next week with 'Meaningful Vote 3', in the hope of a famous victory following terrible defeats.
Before the Fixed Term Parliament Bill the scale of that first defeat would probably have amounted to a loss of confidence and resignation, but Theresa May is not the resigning type (and even if she was I suspect she would want to stay on until the Conservative conference in September, beating Gordon Brown's time in office in the process).
She persuaded some of her backbenchers, like Borders MP John Lamont and former Brexit Secretary David Davis, to switch on Tuesday and would hope for more the next time, but Tuesday's defeat was not her biggest set-back this week.
Last night her authority suffered much more damage. She initially allowed a free vote on the motion ruling out a No Deal Brexit before the planned date for leaving the EU, now in 15 days time. Before that there were amendments and one was passed, by just four votes, ruling out No Deal ever.
It turned out that was the wrong kind of No Deal for the Prime Minister and the government put a three-line whip on Conservative MPs to vote against the amended motion.
Many of her MPs rebelled voting against the government direction or abstaining. 16 government ministers abstained including Scottish Secretary David Mundell and three even more senior Cabinet colleagues.
They are all still in government this morning and the Prime Minister doesn't look like sacking them.
Today the Chancellor, Phillip Hammond, complained that MPs have yet again shown what they do not want but have not said what they want. In their defence they have been denied that opportunity in parliament, but that could be about to change.
Labour MP Yvette Cooper and Conservative MP Oliver Letwin, both former cabinet ministers and both out of favour with their party leaders, are looking at an amendment which would put a series of indicative votes on alternative options, such as the so-called Norway Plus Option of staying in the European single market and customs union, or a second EU referendum, to MPs to see if they can find an option which has majority support in the House of Commons.
The Independent Group of MPs, backed by the SNP and Lib Dems, are proposing an amendment to today's motion for extending Article 50 for longer that the three months proposed by the PM, to hold a People's Vote on her deal.
As ever, it is up to the Speaker to select amendments and because it is Thursday and they want to get home for the weekend, MPs will vote at 5pm tonight.
By then we might know for sure if the Prime Minister will go for MV3 next week ahead of next week's European leaders' summit.
Just a final warning; some of the old stories about Bruce and the spider claim he watched it fail six times before it succeeded, with a bit of luck that's not the version the Prime Minister has heard.
Colin Mackay is political editor at STV News
Download: The STV News app is Scotland's favourite and is available for iPhone from the App store and for Android from Google Play. Download it today and continue to enjoy STV News wherever you are.