Lord Steel 'should not be stripped of peerage' amid probe
The former Liberal leader was suspended from the party following comments made to an inquiry.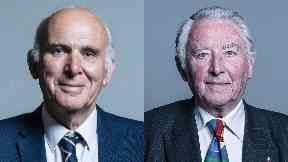 Sir Vince Cable has said that Lord Steel should not be stripped of his peerage, despite his suspension from the Liberal Democrats.
It was announced on Thursday that the former Liberal leader was being suspended following comments he made to an inquiry regarding child abuse allegations against former MP Sir Cyril Smith.
Speaking ahead of the Liberal Democrat spring conference in York, Mr Cable said: "We've set up a disciplinary body in Scotland, where he's a member, and he has been suspended while we look at the evidence and look at the possible sources.
"It's not good, and we worry a lot about people who have been victims of these terrible activities.
"But as far as David Steel's role, we have moved properly to suspend him, and there is now a thorough investigation into his role."
When asked whether Lord Steel should retain his peerage, Mr Cable said: "You can't take a peerage away until you establish that he's done things seriously wrong.
"There is the question of whether he remains a Liberal Democrat peer, and that depends really on the outcome of the investigation."
The comments follow the announcement that Lord Steel had been suspended from the party following comments he gave to the Independent Inquiry into Child Sexual Abuse on Wednesday.
The former Liberal leader told the probe that a conversation he had with the late Smith in 1979 left him "assuming" that the child abuse allegations against the former Rochdale MP were correct.
Lord Steel, a former Scottish Parliament presiding officer, explained how the conversation was prompted by a story in Private Eye magazine, which itself had followed an article in the Rochdale Alternative Press suggesting that local MP Smith had been investigated by police over allegations of abuse against teenagers at the Cambridge House hostel in the town.
He told the inquiry: "He accepted the story was correct. Obviously I disapproved, but as far as I was concerned it was past history."
Following his comments, the Scottish Liberal Democrats said that disciplinary proceedings had been started against Lord Steel, before later announcing that he had been suspended from the party.
Smith, who passed away in 2010, is accused of sexual abusing a number of boys.
In a statement released before he was suspended on Thursday, Lord Steel said he wanted to "clarify what happened in 1979 when I asked Cyril Smith about the report in Private Eye".
He said that they had not discussed the details of the report, and said that Smith had said that "he had been investigated by the police at the time" and no action was taken against him.
On the same evening that Lord Steel's suspension was announced, Mr Cable revealed that he would be standing down as the party's leader in May in order to make way for a "new generation".
The 75-year-old said that, assuming there is not an early general election, the contest to succeed him will begin after forthcoming council elections.
When asked whether he had a successor in mind, the MP for Twickenham said that there are seemingly three people in the frame for the role, but added: "I'm not picking a successor.
"They've got to compete. I think it would be improper for me to start tipping and winking in one direction or the other."
Download: The STV News app is Scotland's favourite and is available for iPhone from the App store and for Android from Google Play. Download it today and continue to enjoy STV News wherever you are.