New campaign to legalise assisted dying for terminally ill
Wife of man who lost cancer battle spearheads bid to change the law in Scotland.
A woman who watched her husband suffer a slow, painful death wants the law changed to allow assisted dying in Scotland.
Liz Wilson's husband Craig lost his life to cancer in December, after spending his final months in unbearable agony.
The 45-year-old from Cumbernauld is now one of the faces of a new campaign urging politicians to allow terminally ill people to decide when to die - an option she wishes had been afforded to Craig.
Pressure group Dignity in Death believes such patients should be allowed help to die without anyone facing the risk of prosecution.
A cross-party group of nine MSPs recently joined together to call for assisted suicide to be legalised in Scotland. Previous attempts to change the law at Holyrood have failed.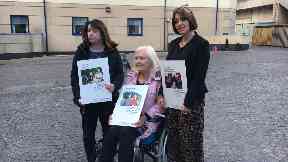 Liz said: "He was slowly and painfully dying, there was no escape. He was begging, he said 'please speak to the doctors, I can't take this pain, I can't take another day'.
"A day was like a year, he'd say 'Liz how long do you think I've got?'. He would say 'Get me to Switzerland' - it's just a pipe dream, isn't it?
"It would have meant the world of difference to us to know that Craig was able to have a peaceful death, able to say goodbye to his loved ones when he could rather than having to face all that.
"People that are against it, what I would say is come and sit with Craig for five minutes and you'd soon change your mind when you see the turmoil, the despair, the helplessness.
"He was grieving the loss of his life for too long.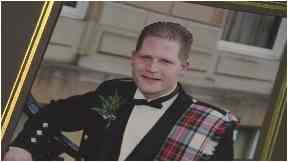 "Serial killers are given a more peaceful death, people who rape torture and murder, yet their human rights are looked after, that's the way I see it."

Dignity in Dying Scotland said that in a survey it commissioned, 87% supported the option of assisted dying for terminally ill people with less than six months to live, with medical approval and safeguards.
The campaign group's director Ally Thomson said: "This campaign is all about love and putting the voice of people who have lived and are living through the injustice of the current law at the heart of the debate."
Care Not Killing, an umbrella group opposing assisted dying, believes more money should instead be made available for palliative care.
Chief executive Gordon Macdonald said: "The last time MSPs voted on the issue of assisted suicide, they rejected Patrick Harvie's Assisted Suicide Bill by 82 to 36.

"Most members realised then that the risks of legalising assisted suicide were too high and would put vulnerable people at risk of harm to justify taking that step."
Download: The STV News app is Scotland's favourite and is available for iPhone from the App store and for Android from Google Play. Download it today and continue to enjoy STV News wherever you are.