Sturgeon aims to hold indyref2 by 2021 if Brexit happens
The First Minister said she will bring forward legislation for the vote by the end of the year.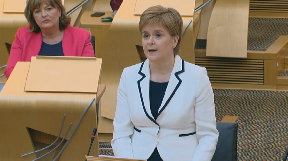 The First Minister has told MSPs she wants to hold a second independence referendum by 2021 if Scotland is forced out of the EU.
Nicola Sturgeon said on Wednesday she will bring forward a Bill laying the groundwork for a fresh independence vote by the end of the year.
However, she conceded she would need a Section 30 order from the UK Government to "put beyond doubt" the Scottish Government's ability to actually hold a referendum.
In a statement to Holyrood, she said: "A choice between Brexit and a future for Scotland as an independent European nation should be offered in the lifetime of this Parliament.
"I can confirm that the Scottish Government will act to ensure that the option of giving people a choice on independence later in this term of parliament is progressed."
This would mean a referendum being held before the next Holyrood elections in May 2021.
Sturgeon said her statement was the "first available opportunity" for her to update MSPs since the EU granted a six-month extension to the Article 50 Brexit process.
The First Minister continued: "There are some who would like to see a very early referendum, others want that choice to be later.
"My job as First Minister is to reach a judgment, not simply in my party's interest but in the national interest."
She added: "To rush into an immediate decision before a Brexit path has been determined would not allow for an informed choice to be made.
"However if we are to safeguard Scotland's interests we can not wait indefinitely."
The FM's announcement comes days before the SNP holds its spring conference in Edinburgh.
A Number 10 spokesman said on Tuesday that Theresa May's stance on the issue of a second Scottish referendum "has not changed".
Sturgeon asked Theresa May for the authority to hold a new independence referendum via a Section 30 request back in March 2017.
However, the Prime Minister declined to do so, and the First Minister held off on pursuing legislation after her party lost 21 seats in 2017's snap election.
Sturgeon also announced plans to establish a Citizens Assembly to consider Scotland's future.
She said this had been done in Ireland to "help find consensus on issues where people have sharply divided opinions".
Responding in the chamber, Scottish Conservative interim leader Jackson Carlaw said: "Whatever the First Minister says about being 'inclusive', her statement is inherently divisive.
"Astonishingly, the way Nicola Sturgeon thinks we can come together is for Scotland to be plunged into another divisive referendum within the next 18 months. That is frankly absurd.
"The SNP's plan is clearly to divide families, workplaces and communities all over again, and for the foreseeable future.
"That is not what the majority of Scotland wants."
Scottish secretary David Mundell commented: "People in Scotland voted decisively in 2014 to remain part of the UK, on a promise that the referendum would settle the issue for a generation.
"Instead of respecting that result, Nicola Sturgeon continues to press for divisive constitutional change when it is clear that most people in Scotland do not want another independence referendum.
"The UK Government will stand up for them.
"Nicola Sturgeon needs to listen to the views of the Scottish people and concentrate on improving Scotland's economy and schools, not continually trying to orchestrate upheaval and division."
Download: The STV News app is Scotland's favourite and is available for iPhone from the App store and for Android from Google Play. Download it today and continue to enjoy STV News wherever you are.