Ian Blackford: Theresa May's time as Prime Minister is up
The SNP Westminster leader told the PM her latest Brexit plans are a 'fantasy'.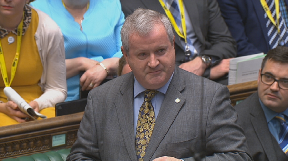 The SNP's leader at Westminster has told Theresa May "her time is up" as Prime Minister.
Ian Blackford said May's latest plans to pass her Brexit deal into law are a "fantasy", adding: "The Prime Minister is fooling no one but herself."
He was referring to a speech by the PM on Tuesday in which she said MPs will be given a vote on whether to have a second Brexit referendum.
The Prime Minister later returned fire, claiming that a vote for the SNP in the upcoming European election is "a vote to betray our democracy".
Ahead of her government's plan to bring the Withdrawal Agreement Bill before MPs in early June, May also promised in Tuesday's speech to give Parliament more of a say on customs.
Her Brexit agreement has already been heavily defeated three times in the House of Commons.
Pressed by Blackford on her new customs offer at Prime Minister's Questions, May said: "There is a difference of opinion in this House on the future customs arrangement with the EU.
"Allowing the second reading of the Withdrawal Agreement Bill will enable this House to come to a decision on that issue.
"It will also allow the House to come to a decision on a second referendum, which I continue to believe would not be the right route for this country to go down.
"We should deliver on the first referendum before suggesting anything about a second."
With a number of May's key ministers missing from the front bench, the SNP MP replied: "Look at the benches behind you. The Prime Minister is fooling no one but herself.
"The truth is that the people of Scotland don't want her deal, her own party doesn't want her deal, and now even the pro-Brexit Labour front bench won't support her deal.
"Her time is up."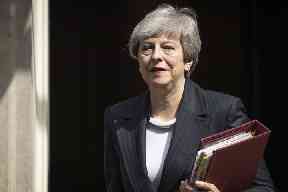 On Thursday's European election, Blackford added: "Tomorrow, people in Scotland have a choice: to send a message.
"To send pro-European, outward-looking, Scottish National Party MEPs to Brussels to stop Brexit."
After PMQs, May made a further Commons statement on the Brexit plans she outlined the day before, clashing again with Blackford on Thursday's poll.
Blackford said: "Brexit has meant our powers stripped away from the Scottish Parliament, there is no respect for the devolved administrations by this government.
"Westminster has ignored Scotland. This is a sorry mess."
He added: "The Prime Minister has lost the confidence of her party, Parliament will not support her and she has lost the trust of the people.
"It is time, Prime Minister, to go - will you do it?"
The PM said her government had held many discussions on Brexit with their Scottish counterparts.
She added: "A vote for the Scottish nationalists is a vote to betray our democracy, a vote to betray the view of the people of the UK.
"People asked us in this House to deliver Brexit, we have a responsibility to do that."
Download: The STV News app is Scotland's favourite and is available for iPhone from the App store and for Android from Google Play. Download it today and continue to enjoy STV News wherever you are.