Jim Murphy apologises for expenses scandal
VIDEO: The politicians were tackled over the controversial issue which has rocked Westminster.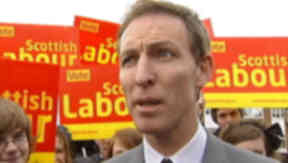 The candidates were also asked about the expenses scandal that rocked the last Parliament during the STV debate.
They were asked if any MPs who had profited from having a second home should pay back any money they made.
Of the four speakers, only Mr Robertson said MPs who had made money from "flipping" their mortgage from one property to another should be forced to return the money.
He called the practice a "scandal" and called for greater transparency in MPs' Parliamentary expenses.
He said: "Politicians should not be making money because of your tax payer contributions. They should not be profiting.
"I think politicians should be open and upfront if they are going to profit from second homes in London and all of it should be paid back - not just capital gains but all of it should be paid back either to the House of Commons or to charitable causes."
Mr Murphy apologised "on behalf of all politicians" for the expenses scandal, admitting the system had been "broken" by MPs.
He said: "No politician should get rich by the back of politics, no member of Parliament should get legal aid for the way they have behaved and no politician should ever, ever again vote on their own wage or their own expenses any time ever in the future."
Mr Mundell condemned politicians for failing to implement past legislation governing the ways politicians claimed back their expenses.
He said: "I think one of the big mistakes that have been made in the past is that many independent recommendations have been made but the politicians didn't accept them. They interfered with those recommendations.
"We have got to recognise that there is still an enormous amount of public anger out there on this issue its not going to be turned  round even by this General Election. We have to show our worth to the public."
Mr Carmichael called for the public to be given more "control" over politicians at Westminster.
He said: "Those who were flipping their mortgages and who made massive personal gains as a consequence will not be part of the next House of Commons.
"I think that is part of the very different politics we are now in and that's what's so exciting and so inspiring.
"We have to have a clean new system in place and we have got to give the people back more control over their politicians."
ANALYSIS
HOW THE DEBATE UNFOLDED