Salmond: Scotland needs independent broadcaster for digital age
The First Minister told the Edinburgh TV festival that viewers were 'short-changed' by the existing set-up.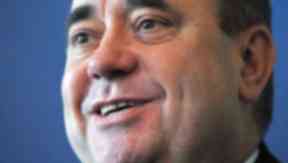 First Minister Alex Salmond has made a fresh call for the Scottish Government to be given control over broadcasting policy even if Scotland remains in the UK.
Speaking at the Media Guardian Edinburgh International Television Festival, Mr Salmond said viewers were being "short-changed" by the current media set-up.
He claimed that devolving broadcasting powers to Edinburgh was the only way Scotland could keep pace with developments in the digital age.
Mr Salmond pointed to the success of Gaelic language Freeview service BBC Alba, which has an audience far greater than the Gaelic-speaking population, as proof that there was demand for distinctive Scottish programming.
He said: "Scotland's contribution to broadcasting is unparalleled. Television was invented by John Logie Baird and the very concept of public service broadcasting was shaped by Lord Reith.
"But Scottish viewers and TV production talent are today being short-changed.
"Since 2007 investment in training and network commissioning are up and BBC Alba - our national Gaelic language station - is a huge success, with an audience size last month nine times the number of people who speak Gaelic.
"So viewers are clearly voting with their remote controls for more Scottish content. Yet we do not have an English-language public service broadcasting channel of our own.
"The legislative framework that controls broadcasting in Scotland is based in Westminster and was put in place more than 50 years ago. Two years from the most important decision in Scotland for 300 years, it remains substantially unaltered.
"In an age of digital revolution, broadcasting policy has not even adapted to devolution."
The First Minister said a Scottish Digital Network had been endorsed unanimously by Holyrood, but ignored by the UK Government.
"The status quo is failing Scottish TV viewers and producers," he said. "Control of broadcasting policy must lie with Edinburgh rather than Westminster.
"In Scotland we have protected free education and the NHS, and we are enacting world-leading climate change legislation. We can also take responsibility for protecting and enhancing the values of public service broadcasting."
If Scotland were to become independent, Mr Salmond would break up the BBC and create a Scottish national broadcaster "based on the existing staff an assets of BBC Scotland".
"Further details on how that broadcaster would operate and its continuing relationship with the BBC will be published next year," he added.
The First Minister said there would be "continued access" for programme-makers from outside Scotland to supply content to the new broadcaster.
Shadow Scottish Secretary Margaret Curran MP claimed the SNP's plan for an independent broadcaster would "destabilise" the creative industries in Scotland.
She said: "Four years ago, Alex Salmond handpicked the man now running his independence campaign to chair a commission tasked with making the case for splitting up broadcasting. Even he couldn't deliver what the First Minister wanted and made the case for sticking with the BBC and a shared approach.
"Despite the weight of evidence that we're better working together with the BBC, Alex Salmond still wants to break up the BBC. It's about time that he concentrated on strengthening our creative industries rather than seeking to destabilise them."