Nick Clegg insists the Lib Dems will play a 'key' role in referendum debate
Party leader spoke out on first visit to Scotland since Better Together campaign launch.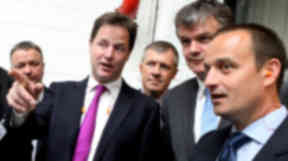 Deputy Prime Minister Nick Clegg has insisted his party will play a key role in the argument over Scottish independence despite a slump in support at the polls.
The Liberal Democrat leader said the party's advocacy of further devolution, while remaining a part of the United Kingdom, was in tune with the views of many Scots.
Mr Clegg, speaking during his first visit to Scotland since the launch of the unionist parties' Better Together campaign, said: "The Liberal Democrats will play a very big role.
"We have got some extremely well-known, well-recognised national figures including Charles Kennedy, Willie Rennie and Michael Moore.
"We are leading advocates of further devolution but we also believe in the value of the family of nations in the United Kingdom standing together, so we can do things together that we cannot do on our own."
Mr Clegg's comments came as he toured manufacturer and recycler Mainetti UK in the Borders town of Jedburgh.
The Liberal Democrats have seen their support in Scotland crash since forming a coalition government with the Conservatives at Westminster, including the loss of 80 seats at the recent Scottish local elections.
Mr Clegg said: "I think whatever our short-term ups and downs, I actually think that when it comes to the referendum vote — which is nothing about which party you like most — but is an argument about the future of a country and the nation as a whole, I actually think many Scottish people will be interested to know what a quintessentially Scottish party like the Liberal Democrats has to say."
Mr Clegg said Scottish Secretary Michael Moore was "ready and willing" to discuss arrangements for the referendum with First Minister Alex Salmond, with key decisions to be made over the next few months.
"The Scottish Government has its own timetable. We've made it very clear that there are things that need to be decided in the coming months," he said.
"We've all made it clear that we shouldn't play cat and mouse with the Scottish people and muddy the waters and confuse things by having a great long list of multiple-choice questions.
"There has been an independent panel which has come up with its own version of a single question.
"The grinding uncertainty of when the referendum will be held is not good for the Scottish economy, and that is why we would like this to be held sooner rather than later.
"I think one way or another we are going to see things come to a head in the coming months."
SNP MSP Chic Brodie, who used to be a Liberal Democrat party member, said Mr Clegg is "completely out of touch" with the constitutional debate in Scotland.
"He is in urgent need of a reality check if he thinks the Lib Dems are of the slightest relevance in this," Mr Brodie said.
"Just as they have in the coalition, the Lib Dems have allowed themselves to become passengers in the Tory-led anti-independence campaign.
"All their talk of more powers for the Scottish Parliament has been abandoned to please their Tory masters — just like their promises on tuition fees, VAT and much, much more."