Socialist republican group no longer welcome at independence march
Scottish Republican Socialist Movement no longer invited to Edinburgh march on September 22.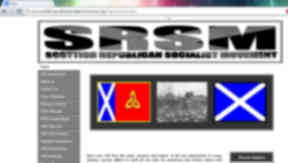 Organisers of a march for Scottish independence have removed a controversial group from their website after concerns were raised about anti-democratic and offensive tactics.
The Scottish Republican Socialist Movement (SRSM) had been named as one group expecting to join a host of mainstream politicians and high-profile supporters campaigning for a Yes vote in 2014.
The SSRM website features photographs of burning Union flags. It also states: "Because the ruling class will not relinquish power without their use of armed force, this revolution will be a time of violence as well as liberation."
The group sees independence as a way of furthering a class struggle to overthrow the capitalist system.
March and Rally for Scottish Independence organisers quickly removed the group after it was brought to their attention amid calls from pro-Union politicians for Alex Salmond to distance himself from the march altogether.
A spokesman for the march, planned for September 22 in Edinburgh, said: "If anyone has views incompatible with a democratic system or views offensive to the general public — and that would clearly include flag-burning — then they're simply not invited."
The rally is expected to feature speakers including the First Minister, human rights lawyer Aamer Anwar, former Labour MP Dennis Canavan, broadcaster and mountaineer Cameron McNeish and Green leader Patrick Harvie, among others.
The march begins at the Meadows in Edinburgh before making its way over The Mound to Princes Street Gardens next Saturday. It is expected to be held each year until the referendum.
Pro-Union group Better Together had called for Mr Salmond to pull out of the rally.
In a statement released by Better Together, Labour MP Jim Murphy said: "This isn't the type of Scotland that decent, hard-working Scots want. People across the country, including many SNP supporters will be appalled by the over-the-top attacks on the Queen, our armed forces and the burning of the Union flag."
March organiser Jeff Duncan, a former serviceman who led a Save the Regiments campaign, said in a statement: "Saturday's march and rally for independence is an opportunity for a wide range of organisations from across Scottish society to make the positive case for an independent Scotland.
"Behaviour which is offensive, inappropriate or represents extreme views will not be tolerated by the organisers of the march and any organisation which promotes itself in such a way will not be welcome at the event. One organisation has been brought to my attention and they have been removed from the event.
"As a former serviceman and manager of the Save the Regiments campaign I find any attacks on our armed forces, including the attack by Jim Murphy's Labour government on the historic Scottish regiments utterly unacceptable and while I campaigned to protect Scotland's armed forces Mr Murphy meekly backed the disbandment of the Scottish regiments.
"Saturday should be a celebration of the opportunities of independence and of a modern, just and fair Scotland that is friends with our neighbours and a good citizen in the world. Any organisation that does not share those views is not welcome and I hope to see as many people as possible at Saturday's event to promote a fairer and better Scotland."
An SNP spokeswoman said the event was organised independently.