UK Government's welfare reform 'extremely worrying' for vulnerable Scots
Changes mean that almost £10m less will be spent in Scotland says Deputy First Minister Nicola Sturgeon.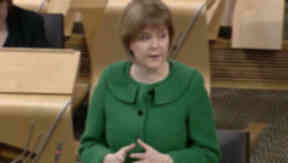 Funding for grants used to help poor and vulnerable people will be reduced under the UK Government's welfare reform agenda, according to the Deputy First Minister.
Nicola Sturgeon said measures being brought in as part of the Welfare Reform Act 2012 will see spending in Scotland on the equivalent of community care grants and crisis loans fall by almost £10m in 2013/14 compared with previous years.
The reforms, which come into force in April 2013, will see the grants and loans abolished and the funding for them transferred to the Scottish Government to do the same job.
Ms Sturgeon said that the changes to the way the budget is calculated mean that just under £10m less will be spent in Scotland than if community care grants had kept up with inflation and if the Department for Work and Pensions (DWP) had not cut back on crisis loans.
Crisis loans, which will become crisis grants from April 2013, are small sums given to people such as lone parents and the unemployed to help them out in times of crisis.
Community care grants help families, the disabled and older people live as independently as possible and stay out of institutional care.
The Scottish Government said community care grants have not risen in line with inflation since 2005/6 while crisis loans had been cut by £5.4m or 53% from 2009/10.
Ms Sturgeon said: "These drastic cuts to Scotland's welfare budgets are extremely worrying, not least because we expect demand for community care grants to continue at high levels as the tough economic times and the broader impact of the UK Government's welfare reforms continue to bite.
"Welfare is, unfortunately, a reserved matter, but it is a reserved matter that has serious implications for some of the most vulnerable members of our society.
"We know that the only way we can fully rectify this issue is to have full powers over welfare and benefits.
"The Scottish Government will consider how it may respond but I urge the UK Government to urgently reconsider its attack on the welfare state.
"If Scotland were to become independent, we would have the powers needed to ensure that our most vulnerable families and groups are protected."
A DWP spokeswoman said: "We're reforming the Social Fund because it is complex, over-centralised and poorly targeted, and replacing it with local provision to ensure this money goes to those most in need.
"We will transfer the current annual funding for crisis loans and community care grants to the Scottish Government.
"The Scottish and Welsh governments and local authorities in England will receive the full programme budget of £178.2m a year in addition to administration and start-up costs of over £72m which represents a fair settlement."