Sixteen year olds allowed vote in Scottish independence referendum
Deputy First Minister Nicola Sturgeon and Scottish Secretary Michael Moore made 'substantial progress'.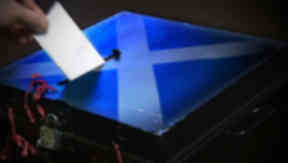 Sixteen year olds will be allowed the vote in a single question independence referendum to be presented to Prime Minister David Cameron and First Minister Alex Salmond in the next few days.
Deputy First Minister Nicola Sturgeon and Scottish Secretary Michael Moore met for talks on the referendum issue on Tuesday afternoon and "substantial progress" was made in discussions over how and when the referendum should be held.
In a surprise announcement, Scotland Office Minister David Mundell said on Tuesday evening that a deal had been agreed between the two governments. He added that the independence referendum would be "based on a single question" following "concessions by both sides".
The franchise will be extended to include many 16 and 17 year olds, the first time voters of that age have been able to participate in a national poll in the UK. This represents a concession on the part of the UK Government, which had previously opposed lowering the voting age, while the SNP is understood to have agreed that there will be no second question balloting voters on further devolution short of independence.
The lowering of the voting age will be seen as a victory for the movement to extend the franchise to 16 year olds for all elections. The SNP has campaigned for this as part of the Votes at 16 campaign, a UK-wide coalition which includes Plaid Cymru, the Green Party and the Liberal Democrats.
Speaking from the Conservative Party conference in Birmingham, the MP for Dumfriesshire, Clydesdale and Tweeddale told STV's Scotland Tonight that it would be "a single-question referendum in which people in Scotland will be asked whether Scotland remains in Britain or becomes an independent nation-state".
He added: "How it will work is that the Westminster Parliament will devolve to the Scottish Government the powers to hold that referendum, which we anticipate in autumn 2014, but it will be a single question referendum - in or out of Britain."
Asked if he viewed the agreement as a defeat for Alex Salmond and the SNP, Mr Mundell said: "It was always a red line for the UK Government to have a single-question referendum. We didn't think conflating issues around further devolution or the way in which Scotland is governed within the United Kingdom was the same as people in Scotland deciding whether or not they wanted to be part of the United Kingdom.
"It was also the mandate that Alex Salmond and the SNP got in the 2011 election. It was a mandate to have a single-question referendum on independence for Scotland."
He added: "What we're delivering, as David Cameron promised just after the Scottish elections, was that we would facilitate that referendum - and that's what we're doing by devolving the powers to hold it to the Scottish Parliament so that there can be a legal, fair and decisive referendum."
Speaking to Scotland Tonight's John MacKay, Mr Mundell was asked when an official statement would be released on the agreement. He said: "Obviously there's a parliamentary process to go through and that is I think contemplated to begin around October 22. So there will be a formal meeting between the Prime Minister and the First Minister before that."
When it was put to him that the Scottish Government was suggesting he had jumped the gun with his surprise announcement, Mr Mundell said: "I think the Scottish Government will acknowledge that we're broadly in place to have an agreement and I think the facts will speak for themselves when we see that agreement signed off in the very near future."
David Cameron and Alex Salmond are now expected to meet in Edinburgh on Monday to finalise arrangements for the historic vote.
Downing Street declined to confirm reports of the timing and location of the meeting, saying only that Mr Cameron will meet the First Minister "shortly". Officials have now been asked to do some further work on the final details of the deal.
Speaking at the Conservative Party conference on Wednesday morning, Mr Cameron promised to campaign against independence with "everything we've got".
He told delegates: "Whether our athletes were English, Scottish, Welsh or from Northern Ireland, they draped themselves in one flag. Now, there's one person who didn't like that and he's called Alex Salmond. I'm going to see him on Monday to sort out that referendum on independence by the end of 2014.
"There are many things I want this coalition Government to do but what could matter more than saving our United Kingdom? Let's say it: we're better together and we'll rise together - and let us fight that referendum with everything we've got."
A joint statement issued by the Scottish Government and the Scotland Office after the meeting between Ms Sturgeon and Mr Moore said: "Further substantial progress towards agreement was reached this afternoon between the Deputy First Minister Nicola Sturgeon and the Secretary of State Michael Moore. Officials have now been tasked with doing some further work on the final detail of the agreement.
"We are however on track for the full agreement, including the terms of a section 30 order, to be presented to the First Minister and the Prime Minister over the next few days."
The lowering of the voting age was welcomed by the Scottish Youth Parliament (SYP), which has campaigned for a change in the law. Grant Costello, Chair of the Scottish Youth Parliament, said: "Allowing 16 and 17 year olds to vote in the referendum would be a seminal moment for Scottish democracy. Young people are the future of Scotland, and it's entirely right they have their say on Scotland's constitutional future. SYP, along with NUS Scotland, have called on both the UK and Scottish governments to work together to make votes at 16 happen – we're delighted that it appears this call has been listened to."