UK and Scottish Governments agree terms of independence referendum
The Scottish Secretary and Deputy First Minister say talks to agree a Section 30 order have been 'constructive'.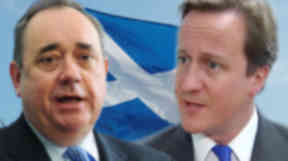 The Scottish and UK Governments say they have reached a deal on the details of the independence referendum in 2014.
Negotiations between Scottish Secretary Michael Moore and Deputy First Minister Nicola Sturgeon reached a "positive conclusion" on the outstanding issues between the two sides.
The agreement is expected to be finalised on Monday when David Cameron travels to Edinburgh to meet Alex Salmond.
Both sides said Friday's talks had been "constructive" and they saw no obstacles to an endorsement by the Prime Minister and First Minister.
Mr Cameron told the Conservative Party conference last week that he planned to campaign with "everything we've got" to keep Scotland in the United Kingdom.
The discussions were aimed at securing a Section 30 order by the Westminster Parliament, which would give Holyrood the temporary right to hold a legally binding referendum.
The deal is also expected to give the Scottish Parliament the final say on the role of the electoral commission and the issue of whether 16 and 17-year-olds should take part.
Ms Sturgeon said: "Obviously, the final agreement is for discussion between the First Minister and Prime Minister on Monday. However, I believe we have reached a position that guarantees a referendum made in Scotland - which is exactly what we set out to do.
"I am grateful to Michael Moore for his constructive approach in recent weeks. I am now immensely looking forward to making the case for Scotland to have the full powers of independence that are necessary to build the prosperous and fair society that we all want."
Mr Moore said: "I would like to thank Nicola Sturgeon for the constructive manner in which she has conducted these negotiations over recent weeks. I am very satisfied with the position we have arrived at.
"I am confident this agreement will be approved by the Prime Minister and First Minister on Monday and that Scotland will have a legal, fair and decisive referendum to decide whether we remain part of the United Kingdom.
"I relish the prospect of getting into the real debate over Scotland's future and putting our case to the Scottish people on why their best future lies as full members of the UK family."