Former SNP leader likens gay marriage consultation to 'fascism'
Gordon Wilson, leader in 1980s, to tell MSPs they face losing seats if they "scorn the electorate".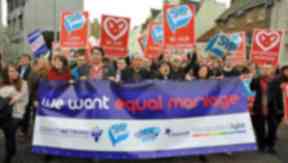 A former SNP leader will attack plans to legalise gay marriage at the party`s conference this week.
Gordon Wilson, who led the Nationalists in the 1980s, will tell MSPs they face losing their seats if they "scorn the electorate".
The Scottish Government announced in July that it proposes bringing in legislation to allow same-sex couples to wed.Ministers declared it is the "right thing to do" and the move received backing from equality campaigners and cross-party support at Holyrood.
But the controversial plan is vigorously opposed in other quarters such as the Catholic Church and by many other religious leaders.
Mr Wilson will address a fringe meeting organised by Scotland For Marriage, the umbrella group set up to oppose gay marriage laws. He will speak on Thursday, the first day of the party conference in Perth.
He will say: "The consultation process was a fraud. What is the point of canvassing the views of the electorate and then cynically discarding them? If you think we are sliding down a road to state fascism and intolerance, you may not be far wrong.
"Be warned, those MSPs of all parties on a narrow majority who exercise their 'free' vote for same sex marriage. They may find that a free vote has as much validity as a 'free' lunch. If they ignore public opinion, a P45 may await. Do not scorn the electorate."
Around 80,000 people responded to a government consultation on the issue. Eighty-one percent of the responses came from people living in Scotland. Of those, 36% were in favour of same-sex marriage and 64% against.
But when responses such as postcards and petitions were excluded, that was reversed, with 65% in favour and 35% against.
The SNP administration has insisted that protections will be included in the new law to ensure churches, and individuals within them, do not have to conduct same-sex marriages if they do not agree with them.
Mr Wilson will also say: "So those MSPs who favour the Bill - and those who object - should realise that the real issues are the freedoms of speech and conscience in a democratic society. This legislation will subvert both rights.
"Also if you believe you can deliver safeguards, think again. Any provision may be changed by your successors once the foot is in the door. Also beware the courts. Their interpretation of 'equality' law overrides yours.
"And for the churches must surely come the realisation that the secular state in the UK, behind the lip-service of politicians and civil servants, is becoming openly intolerant of religion and sees no place for Christianity and Islam save as social curiosities."
A Scottish Government spokeswoman said: "The Scottish Government is committed to a Scotland that is fair and equal and that is why we intend to proceed with plans to allow same sex marriage and religious ceremonies for civil partnerships, a move supported by all party leaders in the Scottish Parliament.
"We are deeply committed to freedom of speech and religion and have already made clear that no religious body or celebrant will be compelled to conduct same sex marriages. Our next consultation will outline the details of the protections in these areas and seek all views."
Pro-gay marriage campaigners condemned Mr Wilson's comments and called on him to apologise. Tom French, Policy Coordinator for the Equality Network, said: "The opponents of LGBT equality have sunk to a new low by comparing equal marriage supporters to fascists and Nazis. The fascist regimes of the 20th century persecuted, tortured and murdered LGBT people. In contrast, the Scottish Government are promoting equality and religious freedom for all.
"No religious body will be required to conduct same-sex marriages, but those that want to will now have the freedom to do so. This is a fair compromise that is supported by over two-thirds of people in Scotland."