Historic referendum deal to kickstart battle over independence
Prime Minister David Cameron and First Minister Alex Salmond to meet in Edinburgh to sign agreement.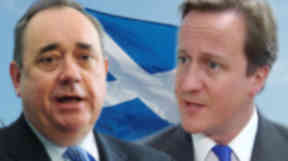 The debate on Scotland's constitutional future will officially begin on Monday as the UK and Scottish governments agree a framework for the referendum on independence.
Prime Minister David Cameron and First Minister Alex Salmond are expected to meet in Edinburgh to sign off on the deal, which will pave the way for the Scottish Parliament to hold a plebiscite on whether Scotland should leave the Union.
The details of the agreement are not yet known but media speculation has suggested that it will provide for a single-question referendum, the UK Government's favoured approached, and allow 16 and 17 year olds to vote for the first time in the UK, a move that has been pushed by the SNP.
Speaking ahead of his meeting with the Prime Minister, Mr Salmond said: "The people of Scotland gave the Scottish Government a clear mandate in last year's election to hold a referendum on Scotland's future in 2014.
"The agreement I expect to reach with the Prime Minister is one which ensures that not only is the referendum made in Scotland, but that the fundamental right of the people of Scotland to choose their own future is respected by all.
"The agreement will see Scotland take an important step toward independence, and the means to create a fairer and more prosperous Scotland. I look forward to working positively for a yes vote in 2014."
The pact has been struck to quash concerns over the legality of a referendum conducted by Holyrood without the permission of Westminster. The Scotland Act (1998), which created the Scottish Parliament, reserves constitutional matters to the UK Parliament.
The Prime Minister will agree to use a Section 30 order to transfer temporarily the power to hold a referendum from London to Edinburgh. This refers to Section 30(2) of the Scotland Act which allows UK ministers to make changes to Schedule Five of the Act – the section of the law that enumerates the powers of the two parliaments.
Secretary of State for Scotland Michael Moore, who negotiated the deal with Deputy First Minister Nicola Sturgeon, told the BBC's Sunday Politics show that the agreed document would ensure a referendum that would be "legal, fair and decisive".
He said: "I think it's a good agreement. I believe it will now allow us to put up in lights the big issues about the big debate...on what is best for Scotland. I believe that when we look at the economy, at defence, at our place in the world, on all these big issues people across Scotland will continue to support Scotland being in the United Kingdom.
"Independence is about Scotland leaving the UK, becoming a separate state, taking on all the burdens and risks that go with that and losing the benefits and opportunities that we have as part of the UK."
Follow it live: Updates throughout the day on the agreement signing