Agreement on referendum on independence between Cameron and Salmond
In full: Text of the deal between the UK and Scottish governments on the independence referendum.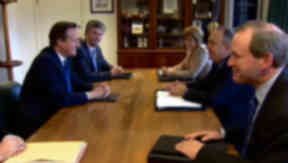 Agreement between the United Kingdom Government and the Scottish Government on a referendum on independence for Scotland.
The United Kingdom Government and the Scottish Government have agreed to work together to ensure that a referendum on Scottish independence can take place.
The governments have agreed that the referendum should:
have a clear legal base;
be legislated for by the Scottish Parliament:
be conducted so as to command the confidence of parliaments, government and people; and
deliver a fair test and decisive expression of the views of people in Scotland and a result that everyone will respect.
The governments have agreed to promote an Order in Council under Section 30 of the Scotland Act 1998 in the United Kingdom and Scottish Parliaments to allow a single question referendum on Scottish independence to be held before the end of 2014. The Order will put beyond doubt that the Scottish Parliament can legislate for the referendum.
It will then be for the Scottish Government to promote legislation in the Scottish Parliament for a referendum on independence. The governments are agreed that the referendum should meet the highest standards of fairness, transparency and propriety, informed by consultation and independent expert advice.
The referendum legislation will set out:
the date of the referendum;
the franchise;
the wording of the question;
rules on campaign financing; and
other rules for the conduct of the referendum.
The details of the agreement between the governments are set out in the following memorandum and draft Order, which forms part of this agreement.
SIGNED
The Rt. Hon. David Cameron MP Prime Minister
The Rt. Hon. Alex Salmond MSP First Minister of Scotland
The Rt. Hon. Michael Moore MP Secretary of State for Scotland
Nicola Sturgeon MSP Deputy First Minister of Scotland
Edinburgh, 15 October 2012