David Cameron promises to fight for Union in referendum campaign
David Cameron promises to make 'a very positive case' for Scotland to remain in the United Kingdom.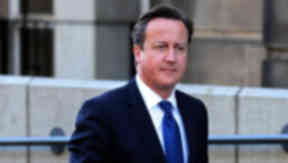 Prime Minister David Cameron has pledged to make "a very positive case" for Scotland to remain in the United Kingdom.
The Prime Minister was in Edinburgh on Monday to sign an agreement with First Minister Alex Salmond for the holding of a referendum on independence.
The vote will be held in autumn 2014 and will feature one question while many 16 and 17 year olds are expected to receive the franchise after the pact assigned the decision over the voting age to the Scottish Parliament.
Speaking after signing the deal, Mr Cameron said: "I always wanted to show respect to the people of Scotland.
"They voted for a party that wanted to have a referendum. I've made that referendum possible and made sure it's decisive, it's legal and it's fair, and I think that's right for the people of Scotland."
Asked what he gets back when he has given Mr Salmond control of both the date and the franchise, he replied: "What we have is what I always wanted, which is one single question, not two questions, not devo max, a very simple single question that has to be put before the end of 2014 so we end the uncertainty, we put beyond doubt Scotland's position either within the United Kingdom, as I hope, or separating itself from the United Kingdom, one single simple question.
"That for me was always the key. Now we've dealt with the process, now we should get on with the real argument, and I passionately believe Scotland will be better off with the United Kingdom but also crucially the United Kingdom will be better off with Scotland.
"We're better off together, we're stronger together, we're safer together.
"Let the arguments now be put, and I hope that people will vote to keep this United Kingdom together."
Mr Cameron, who visited with workers at Rosyth dockyard prior to his meeting with the First Minister, added: "This marks the beginning of an important chapter in Scotland's story and allows the real debate to begin. It paves the way so that the biggest question of all can be settled: a separate Scotland or a United Kingdom? I will be making a very positive argument for our United Kingdom.
"It is now up to the people of Scotland to make that historic decision. The very future of Scotland depends on their verdict. It is that important. This agreement delivers the people's referendum."