Johann Lamont: Referendum must not 'distract from real problems'
Scottish Labour leader says, while referendum is important, it must not overshadow social problems.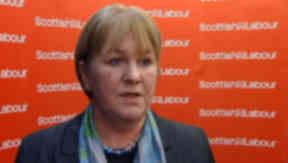 Scottish Labour has called for politicians not to forget Scotland's social problems during the campaign on the independence referendum.
Leader Johann Lamont said the voters had the right to have their say on Scotland's constitutional future but she urged the SNP to act on "some of the real problems being faced by families".
She was speaking after Prime Minister David Cameron and First Minister Alex Salmond signed an agreement setting out the framework for the public vote on whether Scotland should leave the UK.
Ms Lamont said: "We are pleased that we have finally reached an agreement that should allow Scotland to have a fair and decisive referendum.
"Alex Salmond has the right to ask the question and now people have the right to answer it. But we cannot allow this debate to distract from some of the real problems being faced by families in Scotland, things the SNP could act on now.
"Alex Salmond offers people only one solution to Scotland's problems - a referendum on independence - but his timetable makes us wait another two years to have our say."
Her colleague Margaret Curran, Shadow Secretary of State for Scotland, spoke in the House of Commons in response to the signing of the deal.
She told the chamber: "Labour has always been, and will continue to be, the party of devolution.
"Labour brought devolution to Scotland, to Wales and Northern Ireland, and we will continue to make the case for our devolution settlement to develop and evolve. We are and have always been a party of constitutional renewal.
"And as a Labour Party we know that the best interests of our people are served by binding together, not breaking apart.
"So in the debate on our future over the next two years we will be promoting devolution within the Union against those who would seek to bring it to an end."