Prospect of Tory government would see most Scots back independence
Only 40% of Scots would oppose leaving UK if Conservatives looked like winning 2015 general election.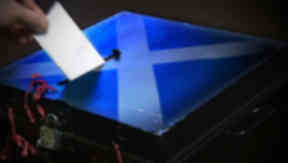 More than half of Scots would be likely to vote for independence if they believed the Tories would be returned to power in Westminster at the next general election, a new poll has found.
The Panelbase poll for The Sunday Times and Real Radio Scotland found 37% of Scots agreed the country should be independent, with 45% opposed.
When it asked voters what they would do if they felt the 2015 UK general election would result in either a majority Conservative government at Westminster or another Tory-Liberal Democrat coalition, 52% said this would make them likely to vote in favour of Scotland leaving the UK.
Under the same circumstances, 40% of those questioned said they would be unlikely to vote for independence, while 8% said they did not know how they would cast their ballot.
A total of 972 voters north of the border were questioned for the survey, which comes less than a week after Prime Minister David Cameron signed a deal on the independence referendum with Scottish First Minister Alex Salmond.
Mr Salmond launched a fierce attack on Westminster on Saturday as he addressed the Scottish National Party's annual conference in Perth.
He branded the UK Government an "incompetent bunch of Lord Snooties" as he declared: "Now is the time for Scotland to choose, to seize a different future."
Scots are due to vote on independence in the autumn of 2014, just months before the 2015 general election.
Ivor Knox, managing director of Panelbase, said: "The UK political landscape in 2014 could be a factor, with a Westminster election due only months after the independence vote.
"Among people who are undecided about independence, over 60% say that the prospect of another Tory-led government would make them likely to vote in favour, with only 13% saying they would be unlikely."
The cross-party group Yes Scotland has been set up to try to persuade voters to back independence in the referendum.
A Yes Scotland spokesman said: "This poll is significant because it backs our view that as people in Scotland start to focus on the choices facing them, support for a Yes vote in the referendum will inevitably increase.
"As we continue to provide high-quality information about the benefits of independence, we are confident that more and more people will realise that a Yes vote is the right choice to deliver a better, more compassionate and caring Scotland — one that matches our values, priorities and aspirations."
But a spokesman for Better Together, which brings together the pro-union parties in a bid to keep Scotland in the United Kingdom, insisted: "The overwhelming majority of polls tell us that Scots do not want to break up Britain."
He said that a separate poll, commissioned by Better Together, found "16% of people are strongly in favour of separation".
The spokesman added: "The referendum is about the future of our country, not a future government. This is a message we will be taking to the country over the next two years.
"We are better together when we stand together with our friends, family and colleagues from across the United Kingdom. No amount of empty rhetoric from the Nationalists can change this."
SNP business convener Derek Mackay MSP said it was "an extremely positive poll, which indicates strong and rising support for Yes across the political spectrum".
He said: "As the polls show that the referendum is game on, what is consistent is that a clear majority of people believe that the Scottish Government is better at making decisions for Scotland than the UK Government — and most people will vote for independence if they believe that they and their families will be better off.
"There is an important job of work to do to persuade more people in Scotland to support the case for independence — we are confident we can and will do that, and if we win the argument we will win the referendum in autumn 2014."