Cameron: Independence case 'falling apart' in wake of EU legal advice row
The Prime Minister said the discovery that the Scottish Government had not sought advice created a 'baffling situation'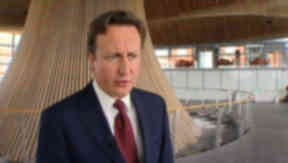 David Cameron has claimed that the case for Scottish independence is falling apart in the wake of the disclosure that Holyrood has not sought legal advice on EU membership.
The Prime Minister said the Scottish Government's admission, which came after it dropped a court action against the Information Commissioner, created a "truly baffling situation".
It followed heated exchanges at Holyrood on Tuesday as Labour MSP Paul Martin refused to retract accusations that First Minister Alex Salmond had lied over the existence of the advice.
Mr Salmond hit back at his opponents, accusing them of selectively quoting his remarks in an interview in which he said he had sought advice from law officers "in terms of the debate".
Labour and the Tories tried to keep up the pressure on Wednesday, calling for the First Minister to make an emergency statement and reiterating their claims that he had misled the public.
At Prime Minister's Questions on Wednesday, Liberal Democrat MP Mike Crockart asked Mr Cameron: "Would you promise today that unlike other leaders in other parliaments in the UK, you will never spend £100,000 fighting the release of legal advice that you don't hold and never asked for?"
Mr Cameron replied: "You ask a baffling question about a truly baffling situation which is that we were told by the First Minister in Scotland (Alex Salmond) that he had legal advice about Scotland's place in the European Union in the event of independence.
"It turns out now they didn't have any legal advice at all and I think what this shows is when you shine the spotlight on the case for separation the SNP put, it completely falls apart."
Court action
Deputy First Minister Nicola Sturgeon confirmed that the government had not sought "specific advice" on the consequences of independence for Scotland's EU membership in a statement to MSPs on Tuesday.
In the same session she said that £3960 had so far been spent on defending a court case against the Information Commissioner, who ruled in July that the Government must reveal whether it had sought or received legal advice.
She said: "In light of the Edinburgh Agreement, by which both governments have agreed the process for Scotland to achieve independence, I can confirm that the [Scottish] Government has now commissioned specific legal advice from our law officers on the position of Scotland within the European Union if independence is achieved through this process.
"The Scottish Government has previously cited opinions from a number of eminent legal authorities, past and present, in support of its view that an independent Scotland will continue in membership of the European Union but has not sought specific legal advice."
Ms Sturgeon said she would inform Parliament of the full public cost of the court action once it was known.
'Extraordinary events'
Labour MSP Jackie Baillie told BBC Radio Scotland it had been a day of "extraordinary events".
"Not only does the SNP have a devastating day losing two SNP MSPs, but the First Minister was revealed as a liar. That is the fact. There is absolutely no doubt in my mind that the First Minister is guilty of lying on this issue.
"He's given the impression on several occasions now that this legal advice exists and it was greeted with some surprise yesterday when the Deputy First Minister said we haven't had any legal advice."
Conservative deputy leader Jackson Carlaw said the Scottish Government's credibility had been "blown apart" by the revelation.
"Any fair-minded person is going to conclude the First Minister has been disingenuous with the truth," he said.
"This is a very important moment for the Government because their credibility and their trust has been blown apart.
"And on an issue as crucial as this when we are deciding the fate of the country ahead, I think it really is inexcusable."