Salmond: I was right to withhold legal advice on EU and I'll do it again
The First Minister said he was following the rules of the Ministerial Code following a barrage of criticism.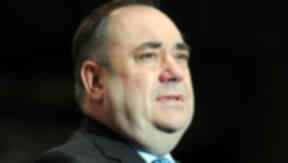 First Minister Alex Salmond has issued a defiant defence of his government's decision not to disclose whether it sought legal advice on European Union membership.
In an exclusive interview with Scotland Tonight, Mr Salmond also said he would not be publishing any future legal advice on how and when an independent Scotland would become a member of the EU.
The SNP has always insisted that Scotland will automatically assume membership as a successor state to the United Kingdom, but this week it emerged that it had not yet asked its law officer for specific advice on the issue.
Deputy First Minster Nicola Sturgeon confirmed the status of the advice at Holyrood on Tuesday after the government dropped its legal challenge to a ruling by the information commissioner that it must disclose whether it had received legal advice.
But Mr Salmond told Scotland Tonight that he was following ministerial protocol by refusing to say whether legal advice had been sought.
He said: "That's quite clear in the Ministerial Code. It's both the fact of whether it exists, and the content. I would have to clear it with the Lord Advocate if I wanted to say I had not sought legal advice.
"The Scottish Government decided to stick to the convention, which every previous Scottish Government had decided to stick to, until that point that came with the Edinburgh Agreement which actually settled the process of how Scotland could become independent. You go to court so that you can uphold the Ministerial Code because there are very important principles that are therein."
The First Minister confirmed he had received a letter from Labour MEP Catherine Stihler calling for him to be investigated for a breach of the ministerial code.
He said: "I've had a letter from Catherine Stihler MEP. I'll give the letter due consideration, and I'll reply in due course, politely and concisely.
"I've been reported five times - usually by Labour and the Tories - for breaking ministerial code. It's five-nil so far - I haven't broken it at all.
"I can't pre-empt any decision of the ministerial code. I'd merely say if you were a football team that had won five and lost nil, then you should be reasonably confident of upholding the ministerial code.
"However, if I'd [talked about what legal advice I had or hadn't sought] and broken the ministerial code - which I didn't - then I wouldn't be in such a comfortable position."
Mr Salmond also denied that the cost of the legal action had amounted to £100,000, as claimed during Prime Minister's Questions by Liberal Democrat MP Mike Crockart.
Mr Crockart asked Prime Minister David Cameron: "Would you promise today that unlike other leaders in other parliaments in the UK, you will never spend £100,000 fighting the release of legal advice that you don't hold and never asked for?"
Mr Cameron replied: "You ask a baffling question about a truly baffling situation which is that we were told by the First Minister in Scotland (Alex Salmond) that he had legal advice about Scotland's place in the European Union in the event of independence.
"It turns out now they didn't have any legal advice at all and I think what this shows is when you shine the spotlight on the case for separation the SNP put, it completely falls apart."
The First Minister said the true legal costs so far amounted to "just less than £4,000," out of a total legal bill estimated to be £12,000.
"I would imagine the information commissioner's legal costs are somewhere around the same quantum, or something around that. That's incidentally a world away from the £100,000 pounds which was claimed by a Liberal [Democrat] MP in the House of Commons today - a figure which is plucked out of thin air."
Asked whether the legal advice would eventually be published, he replied: "No. Well that [advice] will inform the White Paper on independence. That's the purpose of having the opinion, so that we can make sure that what we say about the process of independence is correct.
"If you take the UK government, which makes all sorts of pronouncements, they've said quite recently that they have a legal opinion on this question. Although, how on earth they can have a legal opinion before the agreement which describes the process goodness only knows. They haven't published that."
STV's political editor Bernard Ponsonby said the First Minister could expect a grilling from the opposition in FMQ's on Thursday.
He said: "Every Thursday morning the Holyrood press pack will speculate on the issue to dominate FMQs. No need for that today.
"The opposition will allege Alex Salmond is a stranger to the truth when it comes to dealing straight over legal advice about an independent Scotland's role in the EU. Expect a robust defence from the First Minister. Expect sparks to fly."
STV will be streaming First Minister's Questions live online from Holyrood on Thursday.