Education Secretary to come under fresh pressure over funding
Labour is demanding Mr Russell make a statement to the Scottish Parliament on college funding.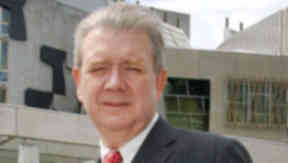 Education Secretary Mike Russell will come under fresh pressure over college funding on Tuesday.
Labour is demanding Mr Russell make a statement to the Scottish Parliament on the issue, and the party's education spokesman Hugh Henry will raise the subject during topical questions at Holyrood.
First Minister Alex Salmond apologised to MSPs last week, admitting that he quoted the wrong figure for college budgets.
He had told MSPs that resource funding for colleges was £545m in 2011-12 and £546m in 2012-13.
However, he explained the figure of £545m for last year did not take into account changes to the budget and should have been £555.7m, meaning college spending has fallen more than £9m this year.
Mr Henry said the Scottish Government had been "disguising its cuts to Scotland's colleges until Alex Salmond and Mike Russell were finally caught out last week".
He said the public deserved a "full explanation".
Mr Henry added: "The First Minister was shamed into coming clean but we have still heard nothing from the man who is implementing those cuts. Now Mike Russell will be forced out of hiding to answer education questions.
"He has to explain whether his inability to be clear about these college cuts was down to incompetence or deceit.
"Scotland has more than 100,000 unemployed young people and Scotland's colleges are central to our attempts to get them back to work.
"It has been a number of days since the full extent of this shambles was revealed - this will be Mike Russell's first chance to set the record straight and apologise to parliament and the people it represents for misleading them."
A Scottish Government spokesman said: "The First Minister made a statement to parliament last Thursday and the Education Secretary will be happy to answer the topical question posed by Mr Henry on this matter in parliament tomorrow."
Liberal Democrat education spokesman Liam McArthur said his party would be pressing for a debate on the issue.
He said: "Alex Salmond may feel uncomfortable about opposition parties holding his Government to account. That is the role of parliament, however, particularly at a time when the SNP is hell bent on using its majority to crush debate."