Holyrood committee backs referendum power transfer from Westminster
The Referendum Bill Committee is recommending that MSPs back the measure in the Edinburgh Agreement.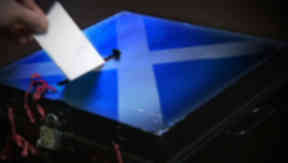 Holyrood's referendum committee has unanimously backed temporary powers that will enable the Parliament to hold a legally binding referendum.
The Referendum Bill Committee has recommended that MSPs should approve a section 30 order transferring the power to hold a referendum from Westminster.
Under the terms of the Edinburgh Agreement between the UK and Scottish Governments, the vote will have to be held before the end of 2014 and will be limited to a single question.
Committee convener Bruce Crawford MSP said: "A key part of the Edinburgh Agreement is the promotion of a section 30 order. This includes certain conditions including that the referendum must be held before the end of 2014 and must give voters the choice of only two responses.
"It also makes provision for referendum campaign broadcasts and for the free postal delivery of leaflets by the Yes and No campaigns.
"The first task for this committee has been to consider the draft order, and it is with genuine satisfaction that I can report that we have unanimously recommended its approval to the Parliament.
"The evidence heard by this committee reflects this is indeed an historic moment on the path to a referendum. Importantly, the evidence also demonstrates a consensus of political and expert opinion that the order will put the legality of a referendum bill beyond effective legal challenge.
"To me one of the key features of the Edinburgh Agreement is that it commits both governments to working together constructively after the referendum, whatever the outcome.
"In the same spirit, I would like to commend the whole committee for the very constructive and responsible way in which it has so far gone about its task."