Swinney: £331m extra Treasury cash is 'halfway to common sense'
Finance Secretary gives a cautious welcome to plans by George Osborne to ease spending cuts.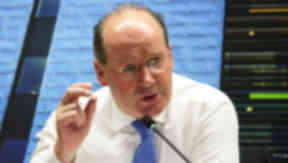 Scotland is to receive an extra £331m in funding from Westminster in the wake of George Osborne's autumn budget statement.
Finance Secretary John Swinney said the boost to capital spending was "welcome" but only went "halfway towards common sense in terms of investment".
The measures announce at Westminster on Wednesday mean the capital budget will be cut by 25.9% over the spending review period to 2014/15 rather than 33% in real terms, according to the SNP government's figures.
Other moves, including scrapping the planned rise in fuel duty and a £50m funding package to deliver ultra-fast broadband to areas including Perth and Aberdeen, were also welcomed.
But Mr Swinney criticised "delays" by the Chancellor in adapting to the economic circumstances.
He said: "After two and a half years in office the Chancellor has finally heeded Scotland's calls to boost capital spending.
"The steps he has taken are welcome but they only take us half way towards common sense in terms of investment and there is still a lack of a coherent plan to return the economy to growth.
"The Chancellor's decision to extend austerity to 2018 show how badly his plan has failed.
"The only certainty now offered by the UK is five more years of public spending cuts. Through their ill-thought-out welfare reform, the UK Government is also causing another £200m to be taken out of the Scottish economy."
Economic powers
The finance secretary said the poorest households would be hit hardest by the Treasury's policies and claimed only independence offered a way out of the cycle of austerity.
"Instead of having to wait for the end of UK austerity, the people of Scotland can choose to bring home the powers needed to take our own decisions to grow the economy, invest in public services and support rather than attack vulnerable Scots," Mr Swinney said.
Scottish Secretary Michael Moore said there was a "good deal" of "positive news" in the chancellor's announcement.
"The Scottish Government will receive more than £300m of new money in addition to the £1bn it has already received since the spending review, all of which it can invest in shovel-ready projects."
"Fairer taxes are essential at this time of economic strain, and that is what we are delivering.
"The Autumn Statement makes clear we are on the right track in terms of borrowing and deficit reduction, despite the troubles on our doorstep in the eurozone."
Shovel-ready projects
Scottish Labour leader Johann Lamont accused the SNP of offering "warm words but no actions" and cutting budgets for investment projects.
She said: "This belated attempt by George Osborne to turn around his disastrous handling of the UK economy does present an opportunity for the SNP Government to make good on its plans for shovel-ready projects.
"We know that the SNP Government has been demanding more funds for capital investment while drastically cutting its own budget for shovel-ready projects.
"The Government's own figures show that the value of the non-profit distributing financed capital investment was cut from £353m to just £20m.
"We cannot afford to get this wrong again. The thousands of families dealing with unemployment or under-employment need investment that will create growth and quality jobs in Scotland.
"Until now we have seen warm words but no action from the SNP Government. Now there is no hiding place. John Swinney must not blow this opportunity to get the Scottish economy back on track."
Construction trade
Scottish Conservative finance spokesman Gavin Brown welcomed increased capital funding for construction."This is a fantastic boost for a sector that has been repeatedly battered, both by the Scottish Government and the global economic crisis," he said.
"It is now up to the SNP to show the projects it claims are shovel-ready are in a position to go ahead."
Unions welcomed the cash injection but criticised the coalition Government's policies.
Grahame Smith, Scottish Trades Union Congress (STUC) general secretary, said: "The coalition is failing, not just on growth and jobs but also on its core purpose of tackling the deficit and stock of debt."
Andy Willox, of the Federation of Small Businesses in Scotland, said: "North of the border, additional money earmarked for infrastructure projects must develop our local communities, economies and job markets.
"Work must be done to ensure that, as often as possible, those doing the shovelling on these projects are employed by Scottish firms."