Three in four industry leaders say independence bad for business
A survey for Ipsos MORI finds 72% of business heads think the effect would be negative.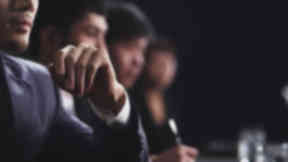 Nearly three-quarters of business leaders believe independence would harm the prospects of companies in Scotland.
A survey by Ipsos MORI found that 72% of those polled believed the effect would be negative, while 13% thought it would have a positive impact.
The study also found that 76% of firms had done no preparation at all for independence, while 16% had done "just a little" and only 3% felt they had managed a "great deal".
Of the 251 decision makers questioned, more than half (56%) believe independence would worsen the prospects for their own company. Only one in 10 believed their company's prospects would improve.
Mark Diffley, research director at Ipsos MORI said: "This survey illustrates the concern that senior decision makers have about the prospect of an independent Scotland in the event of a Yes vote in the 2014 referendum.
"These fears span the perceived negative impact of independence on both the businesses of the senior decision-makers we interviewed and on the Scottish business community more widely.
"This comprehensive picture of business attitudes follows our regular polling of public opinion which has shown support for independence falling during 2012.
"It is possible that so few business leaders are actively planning for the prospect of independence because they do not think that the Yes campaign will win the referendum. Looking ahead, it is clear that the Yes campaign has the biggest challenge in persuading the business community of the benefits of independence."
Finance Secretary John Swinney said: "We are engaging positively with Scotland's business community and all strands of Scottish society, and are confident that we can and will win the positive case for a Yes vote in 2014 and the opportunities that can only come with independence."
Blair Jenkins, chief executive of pro-independence campaign group Yes Scotland, said: "Scotland has enormous business potential, domestically and internationally. We are blessed with huge natural resources and have a much-admired reputation for innovation, entrepreneurship and business acumen.
"The ability to make our own decisions tailored specifically to Scotland's particular business needs and priorities will help maximise that fantastic potential. After all, no one has a greater stake in making Scotland the best possible place to do business than we do ourselves."
A spokesman for Better Together, a campaign to keep Scotland in the UK, said: "This poll should not come as a surprise to anyone.
"The UK is the oldest and most successful single market in the world. We sell more goods to England than we do to every other country in the world combined. It is a nonsense to suggest turning our backs on this. It is a nonsense to think that throwing up barriers to trade will make it easier for our businesses to prosper.
"The simple fact is that we are better together with the rest of the UK. No amount of bluster from the separatists will change this."
Labour's constitution spokeswoman Patricia Ferguson said the survey findings were "devastating to the SNP's dream of breaking up Britain".
She said: "Businesses need far more than empty assertions and this survey shows the deep unease at the big unanswered questions which we face with the SNP's plans for Scotland.
"I'm sure most of the businesses would want the Scottish Government to be focusing on growth, jobs and kickstarting our economy, not their obsession with fiddling with the constitution."