Scottish Government lobbied Mandela, Tutu and Robinson over Megrahi
Emails show how Alex Salmond's office solicited support for the Lockerbie bomber's release.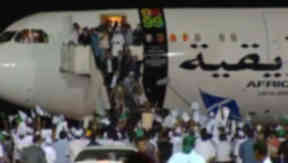 Emails have been published showing how the Scottish Government lobbied prominent global figures such as Nelson Mandela to back the decision to release the Lockerbie bomber.
The emails, released under freedom of information legislation, show one of First Minister Alex Salmond's advisers contacted the offices of Mr Mandela, former Irish president Mary Robinson and Archbishop Desmond Tutu inviting them to comment publicly.
Abdelbaset al-Megrahi, the only man to be convicted for the bombing, died in May this year from prostate cancer after being released on compassionate grounds in August 2009. He had been appealing against the decision until shortly before he was freed.
A template email was sent to the offices of Mr Mandela and Archbishop Tutu, with personalised references to their involvement or interest in the case.
US businessman Donald Trump was also asked to comment.
The email sent on August 26 2009 to the Nelson Mandela Foundation stated: "Given his ongoing close involvement in Mr Megrahi's case, it would be very helpful if Mr Mandela was able to issue a public statement outlining his views on the decision of the Scottish Justice Secretary to release Mr al-Megrahi on compassionate grounds. Please let me know if this is something which you would be able to arrange. My colleagues and I would be happy to discuss this if you require any further information."
Mr Mandela played a key role in the handover of Megrahi and his fellow Libyan, Al-Amin Khalifa Fhimah, to face trial at a special Scottish court in the Netherlands. Fhimah was acquitted by the three judges who heard the case.
A response said Mr Mandela no longer wished to be involved in public issues any more, but added that that he "sincerely appreciates" the decision to release Megrahi, which was "in line with his wishes".
Archbishop Tutu agreed to the request and issued a statement in which he said there was "nothing wrong" with the decision to free Megrahi.
Mrs Robinson, Irish president between 1990 and 1997, was approached through the human rights organisation she founded. Her office declined the invitation.
Scottish Conservative deputy leader Jackson Carlaw said the emails revealed the Government's "desperation" to secure high-profile support for an "unpopular and derided" measure.
He said: "Releasing a mass murderer under the misguided assertion he had three months to live, when he went onto live so much longer, was insensitive and misguided.
"Begging leading global figures for a ringing endorsement is at best embarrassing, at worst crude and insensitive. And when the Scottish Government did succeed in getting a positive quote from Desmond Tutu, it was sneered at."
Lewis Macdonald, Labour justice spokesman, said: "This was an entirely cynical exercise to create the impression that support was flooding in for the decision to release the Lockerbie bomber when the full set of emails show this was not the case."
A Scottish Government spokeswoman said: "The Scottish Government was perfectly entitled to seek support at home and abroad for this decision which was supported by some, including some relatives of Lockerbie victims, and opposed by others."