Excluding pupils from school 'labels them as troublemakers'
While exclusions have decreased, system not working for a small group of youngsters, MSPs heard.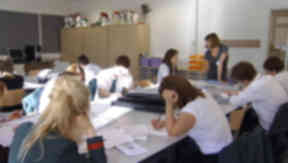 School exclusions are failing disadvantaged children and increasing the likelihood of them going on to commit offences, education experts have warned.
While exclusions have decreased since 2002-03, the system is not working for a small group of youngsters, MSPs heard.
Statistics submitted to Holyrood's Justice Committee show that the number of pupils excluded from primary schools in 2002/03 and 2010/11 are similar, with just over 4100 cases.
But numbers in secondary schools have dropped from 31,000 cases in 2002/03 to 21,688 in 2010/11.
Permanent exclusions fell from 292 in 2002/03 to 60 in 2010/11.
Professor Pamela Munn, of Moray House school of education, said: "Although the pattern is numbers are declining, the persistence of these patterns is very worrying."
Pupils as young as primary one are among those being excluded, she pointed out. "That does raise quite profound questions about why this is happening," she added.
Prof Munn's comments came as the committee held a session on the connection between school exclusions and offending.
Members also heard that a study into the childhood origins of offending found that excluded children are four times more likely to have at least one conviction by the age of 22.
Professor Susan McVie, co-director of the Edinburgh Study of Youth Transitions and Crime, said: "It is all very well to say we are getting better at not excluding, and that is probably true, but for a very small minority of vulnerable, disadvantaged young people, we are not getting it right and we are failing these children.
"Some of the interventions that we have in place at the moment are at risk of labelling these young people, and we do label them as troublemakers. They then take on those labels, learn those labels, and they stick to them."
Alan Staff, chief executive of Apex Scotland, a charity which aims to reduce reoffending, said: "The majority of young people who are excluded already have begun an offending background. They're already committing minor offences, and excluding them actually increases the likelihood of them going on to increase that activity.
"It is almost a self-fulfilling process: you almost create the problem you had hoped to manage."