'Scoundrel' Swinney tells Lords EU rebuff is 'without foundation'
House of Lords committee accuses Scottish Finance Secretary of making 'irrelevant' arguments.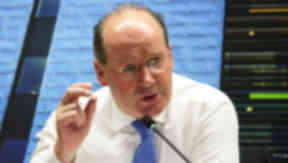 An opinion from the European Union's top policy maker that newly independent countries would not inherit the EU treaties of the countries from which they separate is "without foundation", according to John Swinney.
The Scottish Finance Secretary gave evidence to the House of Lords Economic Affairs Committee on Tuesday afternoon, challenging the opinion of European Commission president Jose Manuel Barroso, which has implications for Scottish independence.
In a letter to the committee, Mr Barroso wrote that "if a territory of a member state would cease to be a part of that state because it were to become a new independent state, the treaties would no longer apply to that territory".
Mr Swinney told the committee that the statement has no basis in EU treaties and said Mr Barroso may have "inadvertently created a specificity about it".
But Mr Swinney was accused of acting like a "scoundrel" for making "irrelevant" and "implausible" arguments to knock down what many members of the committee regard as an authoritative statement from the EC.
Mr Swinney said: "Essentially, I don't agree with the contents of President Barroso's letter for the reason that I do not see the basis within the treaties upon which that remark is founded.
"I can't see where that [statement] comes from.
"It's very interesting in the presentation of the letter that President Barroso gives a very clear treaty reference to countries that apply to become a member of the EU, Article 49, and I completely accept that treaty reference.
"But in the following paragraph, which I agree is a very significant paragraph, there is not a treaty reference because there cannot be any treaty reference because such provisions do not exist."
Labour peer Lord Lipsey said the treaties only apply to member states, arguing that it is "not relevant whether there's a treaty reference because Scotland is not then a member state".
He said: "To retreat into clearly implausible references to what is referred to in the treaty to which you would no longer be a signatory because you are no longer part of the EU seems to me to be the last refuge of a scoundrel."
Mr Swinney argued that Scotland would remain a member of the EU until independence was enacted, provisionally in 2016, giving the Scottish Government enough time to negotiate a seamless transition into the EU.
"The EC has been saying for some time that they would only ever comment on a specific scenario if asked to do so by a member state, and the UK Government has indicated that it is not prepared to do so.
"What President Barroso has described throughout his media interviews on this question, and he also makes the point in his letter, whilst refraining from commenting on possible future scenarios, without commenting on a specific scenario, President Barroso is making a general observation.
"In making these remarks he may have inadvertently created a specificity about it."
Mr Swinney urged the UK Government to work with the Scottish Government to clarify some of the uncertainties of independence, including EU membership, before the referendum so that voters can make an informed choice.