Panel of legal experts and journalists set up to review Leveson
The panel will consider all the recommendations of the Leveson report into press standards.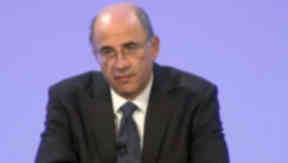 A five-person panel of legal experts and journalists has been appointed to consider the recommendations of the Leveson report into press standards.
The panel was suggested by First Minister Alex Salmond and agreed by all of Holyrood's political parties, following talks last week.
It will be chaired by Lord McCluskey, senator of the College of Justice and a former solicitor-general.
He is joined by David Sinclair, director of communications at Victim Support Scotland and former president of the National Union of Journalists; Professor Neil Walker of the University of Edinburgh; Peter Watson of law firm Levy & McRae and visiting professor at the University of Strathclyde; and journalist Ruth Wishart.
Mr Salmond said: "What is critically important is that this panel is representative of the broad spectrum of interests that need to be taken into account.
"It is a balanced panel that features experts in Scots law, respected journalists, legal practitioners and someone with a background in supporting those affected by crime and malpractice."
Following several months of evidence gathering, Lord Justice Leveson recently published his report calling for legislation to underpin an independent system of self-regulation for the press.
The panel will consider the Leveson recommendations, particularly how statutory underpinning of a new system could work in Scotland.
Members will look at this in terms of the Scottish legal system, any other provisions in law that relate to publication by the press in the UK and any developments in press regulation elsewhere in the UK arising from Leveson.
They will also consider the experiences of press regulation outside of the United Kingdom.
The panel has been asked to provide advice and recommendations to the Scottish Government within three months.
Mr Salmond said: "Press regulation is a devolved responsibility. There have been victims of press malpractice in Scotland, and Scotland has its own unique legal system.
"It is therefore unarguable that we in Scotland need to make our own response to the recommendations made by Lord Justice Leveson in his report, particularly on the proposal for statutory underpinning in Scots law of a new, independent self-regulation system for the press.
"This expert panel will offer advice on the most appropriate way to approach such statutory underpinning in Scotland, bearing in mind our legal system, developments elsewhere in the United Kingdom and experience internationally. What happens thereafter will be a matter for the Parliament."
Talks also continue in Westminster where the Conservative party maintains that statutory underpinning of press regulation is not necessary, while both Labour and the Liberal Democrats support statutory underpinning.