That was 2012: The highs and lows in the world of Scottish politics
Scotland Tonight gathered a panel on Thursday night to discuss the political highs and lows of 2012.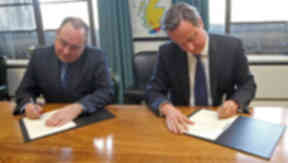 It was the year of fall-outs and agreements on the independence referendum, tough issues tackled at Holyrood and the findings of the Leveson Report into press ethics.
Scotland Tonight gathered an expert panel on Thursday night to discuss the political highs and lows of 2012.
There was the announcement of the independence referendum date, the Edinburgh Agreement to lay out the legal basis for the vote and arguments over an independent Scotland's place in Europe.
To fight each corner, the Yes Scotland and Better Together campaigns were launched with backers ranging from celebrities to ordinary members of the public.
May's council elections left Scottish politics a two-horse race between the SNP and Labour as the Tories declined and the Lib Dems went into meltdown.
There were hard choices as Scottish Labour leader Johann Lamont gave a controversial speech warning that the principle of universalism was unaffordable in the long run. The SNP's membership narrowly voted to abandon the party's opposition to NATO, prompting Nationalist MSPs John Finnie and Jean Urquhart to quit the party.
The Scottish Government passed legislation to introduce a state-regulated minimum price on alcohol and promised a bill legalising same-sex marriage.
Lord Justice Leveson published his report into press ethics, calling for a new regulatory body underpinned by statute. Alex Salmond insisted a separate Scottish solution was needed.
The Lockerbie bomber Abdelbaset Ali Mohmed al-Megrahi died in Tripoli, almost three years after being released by the Scottish Government.
It was a sad year for the legal community as Paul McBride QC, one of the most respected lawyers in Scotland, died suddenly in Pakistan aged 47.
Alan Cochrane, Scottish Editor of the Daily Telegraph, writer and broadcaster Lesley Riddoch and Radio Clyde and Radio Forth Political Editor Colin Mackay gave their verdicts on the biggest story of the year: the independence referendum.
Alan Cochrane told Scotland Tonight presenter Rona Dougall that Prime Minister David Cameron got the better of Alex Salmond. He said: "It was Cameron's year rather than Salmond's. He set the ball rolling in January and he kept the initiative right through the year, aided by the Scottish Secretary. Alex Salmond's a very good operator but he hasn't really had a good year and I think Cameron won the battle of 2012."
But Colin Mackay disagreed, saying: "Winning the deal and winning the year are two different things. I think Salmond won the deal because the referendum isn't going to end up in court – it's going to go to the ballot. Salmond has a rock-solid guarantee that, whatever the outcome of the referendum, it will be binding."
Lesley Riddoch said the public had lost out because the compromise measure Devo Plus will not be included on the ballot. She said: "It was messy for both sides and I think Alex Salmond thought civic society would come to the rescue, formulate the question for him, and push so hard that it would be attractive to the unionist parties to support it, and the Scottish public would have something they could all vote for instead of against."