Alex Salmond hails free higher education policy in New Year message
First Minister highlights decision to "restore Scotland's centuries-old tradition of free education".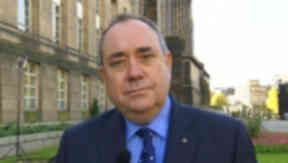 The First Minister has contrasted the Scottish Government's stance on university tuition fees with that taken elsewhere in the UK in his New Year message.
Alex Salmond highlighted the SNP administration's 2007 decision to "restore Scotland's centuries-old tradition of free education" as he invited people to consider what differences could be made in other policy areas if there were a Yes vote in the independence referendum.
Scottish students do not have to pay tuition fees while those from the rest of the UK face paying up to £9000 each year.
Mr Salmond said: "The results of this are now plain to see. This year, people accepted into Scottish universities have increased. And we've record numbers of Scottish, English and overseas students studying higher education at our Scottish colleges and universities.
"In contrast, the prospect of sky-high tuition fees in England has seen acceptances for universities there sinking like a stone, with tens of thousands of youngsters being denied their life opportunity.
"Now this contrast between what is happening here and what isn't happening there has only been made possible because it is the Scottish Parliament which runs Scottish education. But let's imagine what would happen if we didn't control education or if, as some people suggest, we imposed English-style tuition fees. Numbers at our universities would collapse. We would be mortgaging our own country's future."
Mr Salmond invited Scots to consider how they might vote if the referendum in 2014 was for an independent Scotland to give up its independence and hand over powers in areas like welfare or foreign affairs to London.
Those arguing for such a move would be pursuing "mission impossible" and would be "laughed at from Gretna Green to Dunnet Head", the First Minister said.
Scottish Labour and the Scottish Liberal Democrats also issued their New Year messages.
Johann Lamont, the Scottish Labour leader, argued that the tough economic climate was the main issue facing families.
She said: "At the moment, the political debate centres on the constitution and some would see this year as nothing more than a build-up to something far more significant in 2014.
"I believe we cannot afford to do that. While politicians argue over the referendum, families all across Scotland are facing up to the harsh economic climate.
"Opportunities for our young people are threatened, care for our elderly and vulnerable is squeezed and families are having to deal with rising bills in a time of unemployment, underemployment and pay freezes. I know it is tough for people.
"Despite the claims of some, these problems will not be solved by re-configuring the constitution. But we can help people by arguing for a better way.
"That will be my priority for 2013, working towards a better Scotland."
Willie Rennie, the Scottish Liberal Democrat leader, said Scotland must resolve to confront the "three great evils" that face us - "a demographic time bomb, the advance of climate change and the stubborn pervasiveness of poverty".
He said: "2012 has been a year when every issue, large or small, has been seen through the prism of the independence referendum. We can't afford to let this go on.
"The three evils facing us in the modern world must be confronted in their own right. The population is not going to get any younger, the ice stop melting or deprivation evaporate overnight, no matter what the result in 2014.
"It's time to get serious with these issues. I resolve to play my part. I hope you do to."
His party colleague Michael Moore, the Secretary of State for Scotland, said all the nations of the UK must stand together in 2013 to build an economy that is strong, fair and green.