Financial benefit of oil to independent Scotland being 'overstated'
Chief Treasury Secretary Danny Alexander says Scots would be a pound worse off each year.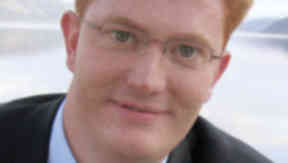 The financial benefit of oil to an independent Scotland is being overstated, according to a senior UK Government minister.
Relying on a comparatively good annual figure to show that oil could make people £500 richer is "misleading", Chief Treasury Secretary Danny Alexander told the Herald newspaper.
Taking an average over the 12 years of devolution wipes that figure out — but would leave Scots just £1 out of pocket each year instead, he said.
Deputy First Minister Nicola Sturgeon cited the £500 figure in her speech to the SNP conference in October, based on government figures for 2010-11.
Mr Alexander, Liberal Democrat MP for Inverness, Nairn, Badenoch and Strathspey, told the Herald: "Basing a case for Scotland to be independent forever on one good year of oil revenues is incredibly misleading and very foolish.
"In fact, taking an average of the Scottish Government's own figures since devolution, instead of being £500 better off, Scots would be £1 worse off. This is yet another Scottish Government assertion exposed as a myth."
Mr Alexander's intervention follows a pledge by First Minister Alex Salmond to focus on the oil and gas industry and build on its financial success.
Mr Salmond says oil with a wholesale value of £1.5 trillion is yet to be recovered and argues the industry has a bright future.
A spokesman for Finance Secretary John Swinney said: "No one disputes the fact that Scotland more than pays her way and it is ridiculous for Danny Alexander, who is presiding over a UK economy increasingly saddled with debt, to claim otherwise.
"While Scotland has had a current account surplus in three of the last six years, the UK has spent more than it raised in every single year.
"Scotland contributes 9.6% of UK revenues despite having only 8.4% of the UK population.
"The problem for Danny Alexander is he is trying to convince Scots to stick with a Westminster government that thinks it can cut its way to growth. With independence we will be able to use all of Scotland's resources to build a strong and sustainable economy."