Tax credit changes to cost 250,000 families £279 on average
Labour's Shadow Scottish Secretary claims 'unfair cut' will make life harder for many families.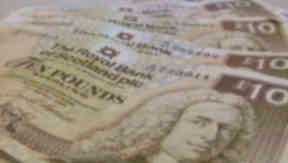 Changes to tax credits could hit more than a quarter of a million working Scottish families, Labour has warned.
The party calculated that the average family stands to lose £279 under UK Government plans.
Speaking before a Commons debate due on Tuesday, Shadow Scottish Secretary Margaret Curran said the Conservative-Liberal Democrat coalition is prepared to cut incomes of about 261,000 families.
"The best way to get the welfare bill down is to get people off the dole and back to work," she said.
"That's why we need welfare reform that works, alongside Labour's compulsory jobs guarantee which would make sure that people who have been out of work for two years would be obliged to take up a job or face losing their benefits.
"This is no time to be hitting people with another unfair cut. Families across Scotland are struggling to make ends meet and in 2013 the Government look set to make things even harder."
Shadow Chancellor Ed Balls announced a Labour plan earlier this week to tackle long-term unemployment by slashing pension tax relief for top earners.
Prime Minister David Cameron said Labour's position is bizarre.
A spokeswoman for the UK Department of Work and Pensions said: "In difficult economic times, we've protected the benefits of disabled people and pensioners who have little means to increase their income.
"We've also committed to helping people who claim working age benefits and tax credits and will increase this support by 1%.
"This was a tough decision, but it will ensure that the welfare budget is sustainable over the longer term and will continue to help the people who need it most. And by raising the Personal Allowance threshold we've lifted over two-million low earners out of tax altogether."