Scotland set to miss household recycling target warns Conservatives
'Majority of councils simply don't have the resources' to meet 'ambitious' targets says spokesman.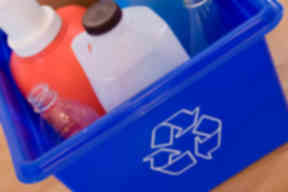 Scotland is on course to miss a recycling target, according to a warning from the Tories.
There must be a significant change to the current trend if the 50% target for household waste is to be met, the party said.
The national average of 40.1% last year was only slightly higher than the previous year, according to data published by the Scottish Environment Protection Agency.
Recycling levels also vary among Scotland's 32 councils.
Tory environment spokesman Jamie McGrigor said: "There is nothing wrong with ambitious recycling targets, but it seems the majority of councils simply don't have the resources to make them happen.
"And when this pressure is applied from the top, you get situations like we have in Edinburgh, where the council has reduced bin collections to fortnightly, a move that has been deeply unpopular with residents."
He continued: "Instead of setting unachievable targets, the SNP should be providing realistic and practical help to local authorities."
The Scottish Government launched its Zero Waste plan in 2010.
Its vision describes a position where all "valuable resources" are not disposed of in landfill sites.