SNP calls for devolution files to be released ahead of referendum
'Scotland Office will be cheating Scotland of its history' if it does not release files says MSP.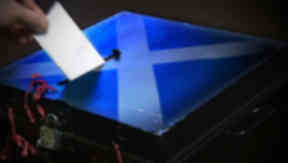 The SNP is calling for British government files on preparations for devolution to be released.
The papers relate to 1997 when ministers and officials were discussing the creation of a Scottish parliament.
The Scottish Government, which allows documents to be published after 15 years, says the information could be important in the run up to the vote on independence next year.
But the UK Government, which owns the files, has a longer time frame before publication and is scanning the paperwork to ensure it meets its information policy.
The Scotland Office, which deals with matters reserved to the Westminster parliament, said normal procedure is being followed.
SNP MSP Jamie Hepburn said the files "must be released".
He said: "It has been 15 years since devolution and whatever the UK Government is trying to hide it is time to be open with the people of Scotland. The Scotland Office will be cheating Scotland of its history if it does not allow these files to be released.
"We know Labour ministers including Blair and Brown were at odds over devolution, but that is no reason to hold that information back.
"It is vital that that in 2013, the year before Scotland's referendum on independence, that the UK Government acts honestly and openly with the people of Scotland. The material in these files is not just an important part of our history it could be of importance to the current debate over independence."
The SNP has itself been criticised for its position on freedom of information. First Minister Alex Salmond was recently at the centre of a political row for trying to keep details about Scotland's place in the EU after independence under wraps. It was later revealed there was no specific advice from the European Commission to ministers in the first place.
The Scottish Government also recently agreed to drop proposals to automatically exempt senior members of the royal family from freedom of information law.
A Scotland Office spokesman said: "The procedure being followed this year is exactly the same as that followed in recent years.
"Pre-devolution files of the Scottish Office are owned by the UK Government but managed on its behalf by the Scottish Government and National Archives of Scotland.
"The Scottish Government operates a 15-year release rule. Prior to release the UK Government departments examine file descriptions and in some cases files to ensure that they can be released lawfully and in accordance with UK Government information policy."
A Scottish Government spokesman said: "The vast majority of archived files due to be opened in 2013 have been released by the National Records of Scotland. The Scotland Office asked for a number of files to be withheld from release, and it is now up to Scotland Office and UK Government officials to inspect the remaining unopened files.
"The files not yet opened may be subject to UK Freedom of Information legislation, not Scottish legislation, and it is now for the UK Government to clear their release. The Scottish Government has no objection to the release of these files.
"Since 2009 it has been Scottish Government policy to open most archived files at 15 rather than 30 years. This has resulted in over 12,000 files being made publicly available earlier than originally scheduled."