Independent Scotland could take human rights triumphs to 'new level'
Legal Affairs Minister Roseanna Cunningham told MSPs time was right for a debate on human rights.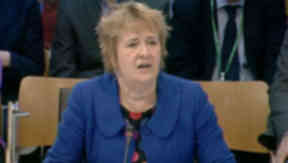 A vote for independence will allow Scotland to take what it has already achieved in the field of human rights "to a new level with new powers", the Legal Affairs Minister said on Tuesday.
Roseanna Cunningham told MSPs that the time was right for a debate on how human rights can be constitutionally guaranteed.
But she was attacked by opposition parties, who suggested the Scottish Government can do more to tackle issues such as human trafficking using its existing legislative powers, and questioned the First Minister's record of promoting human rights abroad.
MSPs were debating the subject at Holyrood as they agreed to nominate Professor Alan Miller for reappointment as chair of the Scottish Human Rights Commission from March 2013 to March 2016.
Ms Cunningham said: "When Scotland votes in 2014 there will be, I hope, opportunities to take what we have already achieved to a new level with new powers and a heightened sense of ambition.
"As the First Minister noted in London recently, the time is right for the debate on how Scotland both guarantees and implements rights, and how we ensure that constitutional guarantees place the person at the centre of the system rather than at the bottom or the margins."
Commenting on Prime Minister David Cameron's proposed in/out referendum on EU membership, Ms Cunningham added: "I do find it a bit worrying that parts of the UK are demanding the scaling back, and in some cases wholesale removal, of the domestic framework of human rights in the UK.
"The discourse of some within London is coloured by what seems to be a parochialism, and a perception of human rights as a barrier. The Westminster debate is sadly out of touch with the needs of real people."
The minister was challenged by Conservative MSP Murdo Fraser, who asked: "Can she say something about the role the First Minister has taken in promoting human rights internationally, for example, when he makes visits to places like Qatar whose human rights record is dubious?"
Ms Cunningham said: "Can I ask members to take some care not to express themselves with a degree of hypocrisy here."
She said both Conservative and Labour governments at Westminster had been guilty of failing to promote and protect human rights abroad.
Labour's Jenny Marra said the Scottish Government must act now on rights abuses such as human trafficking.
"The victims of trafficking in Scotland today cannot wait for a written constitution enshrining their rights, nor do they even need to, because the Government in Scotland ... has the power it needs to make a big impact on this human rights abuse now and today," she said.
"This parliament has a great lot of powers that we can use to tackle and prevent this problem of trafficking."
The minister said: "We have already made clear that we will bring forward a specific human trafficking statutory aggravation to ensure that where trafficking forms the background to an offence, that can be taken into account by the court."
She said work was also progressing to review the wider legislative framework for trafficking.
Conservative communities spokeswoman Annabel Goldie quoted a YouGov poll published last year which found 72% of the public thought human rights had become "a charter for criminals", and said the UK Government is right to reform human rights legislation.
"It is a paradox that lawbreakers can demand, as a right, a voice in lawmaking when they showed scant regard for upholding the law in the first place," she said.
SNP MSP Christina McKelvie questioned the UK Government's commitment to human rights in light of its welfare reform agenda, and desire to withdraw the UK from the European Union social charter.
"The battle with welfare reform and austerity which is being paid for by the poor, the sick and the vulnerable is a woeful insight into what the future can hold for us all," she said.
"This on the back of (Foreign Secretary) William Hague's Fresh Start in Europe paper which rips us out of the EU social charter which has rights that protect pensions, equal pay, working time directive, gender and disability protection in the workplace.
"According to the Department for Work and Pensions' own figures, households with the lowest incomes will be the worst affected.
"I believe the poorest will pay for austerity, and this is not acceptable and is a violation of human rights."
Labour MSP Graeme Pearson also criticised the UK Government's welfare reform agenda.
"The consensus is that the approach is resulting in a retrogression in the realisation of human rights, particularly amongst vulnerable and marginalised people in Scotland," he said.
Your report: If you have information on this or any other story, please let us know. You can send information, pictures to web@stv.tv or call us on 01382 591016.
Feedback: We want your feedback on our site. If you've got questions, spotted an inaccuracy or just want to share some ideas about our news service, please email us on web@stv.tv.