Scottish Government criticised over college funding as budget passes
Finance secretary John Swinney restored £10m of the £34.6m cuts but opponents branded it a half-measure.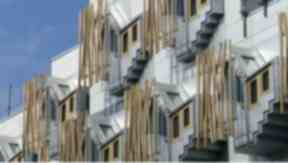 The Scottish Government's budget has been passed by Parliament amid criticism that cuts to college funding will be "damaging" for students' prospects.
In a late concession, finance secretary John Swinney announced an extra £10m in funding for further education, which had been facing a £34.6m cut.
Opposition parties and unions had called for the SNP administration to go further and restore the full amount of college funding.
Other changes included an extra £38m for new housing, £10m on trunk road maintenance and a plan to help town centre regeneration.
But it was the college funding package that attracted the bulk of the criticism, with Labour's finance spokesman Ken Macintosh describing the spending plans as "disappointing".
The new total college fund of £522m in 2013-14 will be matched in the following year, raising the level from an expected £471m.
Mr Macintosh said: "If John Swinney expects the country to be grateful for the fact he has not quite fully restored the cuts he made last year, then he has got another think coming."
Liberal Democrat leader Willie Rennie, who had pressed for the cut to be reversed, said there was "nothing to celebrate" about the £25m reduction in funding.
Robin Parker, president of NUS Scotland, said the college budget was disappointing.
"We fear that a cut of £24.6 million could see damage to students and to colleges, coming at the same time as colleges are merging and huge structural change," he said.
He noted the "positives" of fee-free tuition and the overall two-year increase, but added: "We need to ensure colleges can get through this year without damage to students and we fear cuts on this scale could have really negative consequences."
However, John Henderson, chief executive of Colleges Scotland, said he "warmly welcomed" the additional £61m over the two years.
"This additional funding will help to give colleges stability over the next two years while they work to successfully complete the reform process," he said.
"As the sector's representative, we have highlighted its economic importance to the Scottish Government and we are pleased that its value has been recognised by ministers."
The Budget Bill was passed by 68 votes to 56 after Parliament divided along party lines.
Mr Swinney indicated last year where much of the available £28.4bn would be spent. Billing it as a budget for growth, he announced plans for a new energy skills academy and an employer recruitment scheme designed to help create up to 10,000 jobs for young people.
He told Parliament: "Within the constraints of devolution, our Budget prioritises construction, skills, employment and a green economic stimulus.
"We have taken steps to mitigate the damage being done by Westminster welfare reforms and to make sure our public services are fit for the future.
"Through immediate infrastructure investment we are providing a boost to Scotland's construction sector and wider economy and we are also maintaining the most supportive business environment in the UK.
"This is what we are able to do with the limited powers at our disposal. With the full fiscal and economic powers of independence, the Scottish Government could do even more to strengthen our economy and create jobs."
Tory finance spokesman Gavin Brown accused the SNP of failing to prioritise the economy.
"All the detrimental decisions in this Budget are political ones by the SNP, merely designed to curry favour with the electorate rather than give a vital boost to the economy," he said.
"We asked for action in four key areas, and in all these areas the Scottish Government has come up short."
Green co-convener Patrick Harvie criticised the "substantial" cut to colleges, and what he called a lack of environmental awareness in the transport budget.
"Just 3.6% of the transport budget will be on projects that reduce CO2 emissions," he said.