Health Secretary hails rise in student nurse and midwife numbers
Health Secretary said training more people in nursing and midwifery would benefit health service.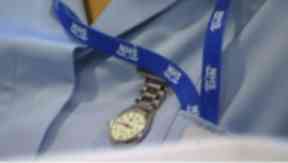 The number of student nurses and midwives entering government-funded degree programmes is to increase for the first time in four years.
Health Secretary Alex Neil said NHS planning projections show that training more people in nursing and midwifery will benefit the health service's workforce in the coming years.
Student intake for 2013/14 will be 2530, a four percent rise on the 2012/13 figure of 2430, with the number of trainee midwives going up by 40%, from 100 to 140.
It is the first time the intake has increased since 2009, the Scottish Government said.
Mr Neil said: "Student intake numbers are set on an annual basis to ensure the number of students is in line with emerging employment trends in NHS Scotland and the wider healthcare sector.
"This year, using information from NHS board workforce planning projections and evidence from Scotland's groundbreaking nursing and midwifery workload and workforce planning tools, the evidence showed that training more nurses and midwives would benefit the NHS workforce across Scotland in future years.
"This intake sets a balance between ensuring the right number of nurses and midwives for the future while also minimising the risk of oversupply and graduate unemployment."
Gillian Smith, director of the Royal College of Midwives Scotland, said: "We are delighted that the Cabinet Secretary has announced an increase in the places for student midwife training from an annual number of 100 to 140.
"I have been lobbying for this for some time because many midwives in Scotland are near to retirement and we need to ensure that there are enough midwives coming in at the other end to replace them.
"We must plan ahead to ensure we have the right number of midwives in the system to provide women with the high level of care that we have come to expect in Scotland."
Matt McLaughlin, Unison lead organiser for nursing, said: "Essential to the delivery of that objective is a steady flow and invest in our student nurse recruits."