Libya dismissive of efforts to reopen Lockerbie bombing inquiry
Police and prosecutors travelled to Tripoli to ask for co-operation in reopening the investigation.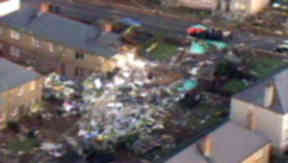 Police and prosecutors have travelled to Libya to discuss reopening the investigation into the Lockerbie bombing.
The Crown Office said a four-person delegation met Libyan Government officials, together with FBI staff from Washington, in Tripoli on February 25. The visit was kept secret for security reasons.
US and Scottish officials have submitted formal requests for Libya to co-operate with the investigation. But Libya's justice minister rebuffed their efforts on Friday when he said his government considered the case closed.
"The matter was settled with the Gaddafi regime. I am trying to work on the current situation rather than dig into the past," Salah al-Marghani was quoted as saying in the Daily Telegraph.
Deputy justice minister Hameda al-Magery was more explicit in his dismissal, saying: "Britain and America are asking us to reopen this file. But this is something of the past. This is over.
"We want to move forward to build a new future and not to look back at Gaddafi's black history. This case was closed and both UK and US governments agreed to this. They had their compensation."
Only one man, Abdelbaset Al Megrahi, has ever been convicted of committing the Lockerbie bombing. A Scottish court convened in the Netherlands found him guilty of mass murder in 2001.
Megrahi died in Tripoli last May, nearly two years after being released from Greenock Prison on compassionate grounds after he was diagnosed with terminal prostate cancer.
Scotland's Lord Advocate, Frank Mulholland QC, said: "Senior officials from Crown Office, Dumfries and Galloway Police and the FBI attended a series of meetings in Tripoli with Ministers and senior officials from the Libyan Government to discuss the ongoing investigation.
"The purpose of the meetings was to discuss US and Scottish requests for co-operation in the ongoing investigation and to agree how these would be progressed. The discussions were positive and it is hoped there will be further progress as a result.
"As the investigation remains live, and in order to preserve the integrity of that investigation, it would not be appropriate to offer further comment".