Nick Clegg: Tories 'cannot be trusted' to stand up for Scotland
The deputy prime minister will tell Scottish Liberal Democrats they are the only party who can guarantee fairness.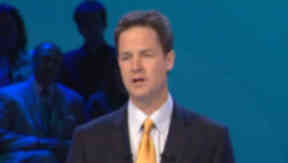 Nick Clegg will claim his Conservative coalition partners "cannot be trusted to deliver a fair society" when he addresses the Scottish Liberal Democrat conference in Dundee.
The deputy prime minister will say the Tories are unable to stand up for Scottish interests with only one MP in Scotland.
"I know that the fact of going into coalition with the Conservatives has been particularly controversial in Scotland," he is expected to say.
"The legacy of Margaret Thatcher's Government lingers long in the memory.
"People in Scotland know that the Conservatives cannot be trusted to deliver a fairer society.
"Not on their own anyway.
"With only one MP in Scotland, who honestly thinks that the Conservatives on their own will stand up for you?"
The Lib Dems have 11 MPs in Scotland, including Scottish Secretary Michael Moore and Chief Treasury Secretary Danny Alexander, following the 2010 General Election.
The only Tory MP, David Mundell, is a minister in the Scotland Office.
However, in the following year's Holyrood election the Lib Dem contingent was reduced from 16 MSPs to five. The Conservatives have 15 MSPs.
Mr Clegg will also pit himself against Home Secretary Theresa May on the issue of the European Convention on Human Rights, which Ms May has pledged to withdraw from.
The UK Liberal Democrat leader insists that the Human Rights Act will not be repealed as long as his party is in government.
"She wants this option to remain on the table: no chance," he will say.
"As I said last weekend, it won't be on the Cabinet table as long as I'm sitting round it."
Lib Dems will also hear from Mr Cable and Scottish party leader Willie Rennie.
Mr Alexander will address the conference on Saturday.