Independence referendum date expected to be announced on Thursday
A statement on referendum expected this week would include First Minister telling MSPs planned date.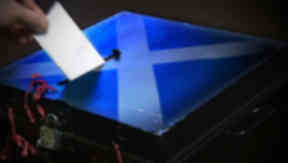 The proposed date of next year's independence referendum could be confirmed by the Scottish Government this week, the Deputy First Minister said.
The SNP administration will propose at a meeting of Holyrood's Parliamentary Bureau on Tuesday that a statement on the referendum is made on Thursday March 21.
This would include First Minister Alex Salmond telling MSPs the planned date in Autumn 2014 for when the referendum will be held.
It has already been confirmed that the proposed question to be put to voters will be: "Should Scotland be an independent country?"
Last week, the Scottish Government formally lodged proposals to lower the referendum voting age to 16, under the Scottish Independence Referendum (Franchise) Bill.
Politicians at Holyrood will determine the arrangements, as agreed in Edinburgh last year between Prime Minister David Cameron and Mr Salmond.
Nicola Sturgeon said: "Next week the First Minister intends to inform Parliament of the date of Scotland's referendum.
"In Autumn of 2014 we will have the historic opportunity to ensure that decisions about Scotland are taken by the people who care most about Scotland — the people who live here.
"The choice becomes clearer every day: the opportunity to use our vast resources and talent to build a better country or to continue with a Westminster system that isn't working."
Labour's Patricia Ferguson said: "The SNP have kept Scotland in the dark over this date.
"They are announcing their announcement now, to deflect attention because they are in such deep trouble over their plans for state control of the press.
"It's the equivalent of saying, 'look ... there's a squirrel'."