Rest of UK 'should have a vote on further Scottish devolution'
A House of Commons committee recommends setting up a constitutional convention to review devolved powers.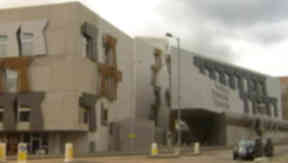 Any further devolution of powers to Scotland if the country rejects independence may need the consent of the rest of the UK, a Westminster committee has concluded.
The Commons Political and Constitutional Reform Committee has recommended creating a UK constitutional convention to review the powers of the devolved administrations in Scotland, Wales and Northern Ireland.
The convention would also address the lack of develoved powers in England
In its report, the committee states: "Even if the Scottish people vote against full independence in 2014, it is likely that the devolution of powers to Scotland will continue."
It cited two constitutional law lecturers at Liverpool Law School, Michael Gordon and Brian Thompson, who said in evidence to the committe that the implications of devolution were "under-appreciated by ministers, officials and parliamentarians".
They also said a UK-wide referendum would be necessary to ratify any further changes to the constitutional settlement.
It said the convention should delay publishing its findings until the outcome of next September's independence vote is known so that it can take the result into account.
The Commons report concluded: "We believe that the future of the Union is the property of all those who live in the UK. Securing the involvement and consent of us all will mean that the continual evolution of our Union will be supported and sustainable."
Prime Minister David Cameron has pledged to look at the devolved settlement "when the referendum on independence is over".
Labour has proposed a Scottish national convention in 2015 to chart the way ahead if people in Scotland vote No, while the Lib Dems want to create a federal UK.
Earlier this week Scottish Conservative leader Ruth Davidson promised to bring forward plans for "a strong devolved nation" in advance of the referendum.
Ms Davidson is quoted in the Commons report calling for the UK convention to have "an open remit rather than have the stated aim at the end of it of what was going to happen before you even started".
The Scottish Government said independence would create a "strong partnership" between Scotland and the remainder of the UK.
SNP MSP Stuart McMillan, a member of Holyrood's Referendum Bill Committee, said: "Westminster's failure to deliver devolution of corporation tax to Northern Ireland shows how empty the promises of more powers for Scotland from the anti-independence parties are.
"The truth is the only way we can complete the powers of devolution and bring the welfare, tax and spending powers to Scotland that a majority of people want is with a Yes vote in next year's referendum."