Independence: Majority care more about 'fairness' than economy
Survey shows that 58% agree that consideration of a fairer and more equal society is more important.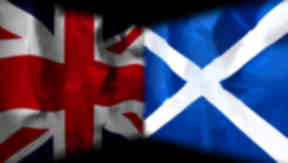 The prospect of a fairer society is a major motivating factor in the independence referendum, a poll suggests.
The survey of 1002 people in Scotland shows that around three-fifths (58%) agree that consideration of a fairer and more equal society is more important than whether they will be slightly richer or poorer.
Commissioned by the Scottish Green Party, the Panelbase poll asked people to rank how strongly they agree or disagree with the statement.
Only ten per cent say that economics will be more important in reaching a decision before the referendum in September 2014. About one-third neither agree nor disagree.
Green MSP Patrick Harvie said: "To date, the economic arguments for and against independence have mainly focused on the prosperity of the nation as a whole, the performance of business and the extraction of oil. What our poll shows is that people are more attracted by a fairer society where wealth is shared instead of hoarded by the few.
"Scottish Greens want to engage with those Scots who haven't yet decided how to vote next September, as we believe our approach offers a positive vision that rises above the arguments they've heard so far.
"Our vision has at its core the need to put the common good back at the heart of our politics. We see independence as a means to that end, not an end in itself. As long as we remain tied to Westminster we risk those efforts being stymied.
"Margaret Thatcher famously declared society does not exist. It's quite clear Scots value society highly and next year's referendum is an unprecedented opportunity to start shaping the fairer society we want to live in."
A spokesman for Yes Scotland, the pro-independence campaign group, pointed to UK Government welfare reforms, including the housing benefit cut that opponents have nicknamed the "bedroom tax", as fresh reasons to vote for constitutional change.
He said: "The desire for a fairer, more just and more equal society goes to the very heart of what it means to be Scottish and the recent Westminster welfare cuts, with the hated bedroom tax, have brought this even more into the public spotlight.
"More and more people are starting to realise that the only way to ensure that we can have a caring and sharing future is to win independence for Scotland and to have the Government we want instead of having one we didn't vote for, such as this Tory-Lib Dem administration and its programme of austerity."