Thousands of school leavers 'lost' in jobs and training scheme
The Scottish Government has pledged to offer all teenagers a training or education place when they leave school.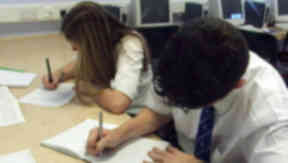 More than 17,000 Scottish school leavers have been "lost" in the system supposed to ensure they go on to work, training or further education.
Scottish Labour obtained the figures in response to a freedom of information request regarding the programme run by Skills Development Scotland.
The Scottish Government has made a commitment to offer all 16 to 19-year-olds a learning or training place if they do not have a job, education or training lined up after leaving school.
The agency also said more than 7000 teenagers have still not been offered a place even though they are known to be looking for education or training.
First Minister Alex Salmond defended of the Scottish Government's record at First Minister's Questions, insisting the pledge had been implemented and was "making a real difference to one of the great corrosive issues, youth unemployment, which affects our society".
Currently 56.7% of 16 to 24-year-olds in Scotland are in employment, compared to 49.7% across the UK as a whole, while one in six young Scots are unemployed compared to a UK rate of one in five.
Raising the issue at Holyrood, Labour leader Johann Lamont said: "Under freedom of information, we have established that Skills Development Scotland has identified more than 7,000 school leavers who are known to be looking for a job or training but have yet to find a a place.
"But it is worse than that. They have also admitted that they have lost more than 17,000 school leavers. They don't know what 17,000 school leavers are doing or where they are."
In reply, the First Minister said there had been a "substantial improvement in young people getting jobs, getting apprenticeships, getting a good start in life.
"What are the First Minister's pledges worth when a guarantee now has become an offer and an offer that's not been delivered?"
Mr Salmond pointed out that as well as the offer of a training or education place, the Scottish Government has pledged to provide 25,000 modern apprenticeships for each year of the parliament.
And he said around nine out of 10 school leavers (89.9%) went on to "positive destinations" such as a job, apprenticeship or college or university place.
Ms Lamont went on to invoke the spectre of Margaret Thatcher's government, recalling her years as a teacher during the 1980s.
"I saw first-hand how our young people had their hopes and aspirations extinguished by the decisions she made. No one in this chamber wants a return to those days.
"The First Minister pledged that every 16 to 19-year-old in Scotland would have a guaranteed place in education or training. Has he achieved that goal?"
Mr Salmond told her: "The policy for 16 to 19-year-olds has been implemented and that I suspect is one of a number of reasons why youth unemployment in Scotland over the last year in Scotland has declined by a third, from 25% to 17%.
"That's still far, far too many but I think it is a substantial achievement over the last year. And the 16 to 19-year-old guarantee along with the substantial increase in apprenticeships in Scotland are part of that programme which has led to that success."
He added: "Not only has there been over the last year a substantial improvement in young people getting jobs, getting apprenticeships, getting a good start in live after the recession, but the destinations of our school leavers are more positive for more youngsters than they were in the good times when the Labour party were in charge."